The University of Wisconsin-Stout, Discovery Center is pleased to host the 2021 Leadership Speaker Series.  We invite you to join us for a conversation around various leadership topics with regional, national, and international experts.  We hope to help inspire you and spark energy, growth, innovation, and excitement for you and your organization.
This series was offered at NO COST to you with thanks to partial funding from EDA CARES grant ED20CHI3070030 that supports innovative leadership's pandemic response. 
Succeeding in the Market by Building Digital Trust 
Dr. Priya Abraham, Founder of Cyberconnecting, Vienna, Austria
March 11, 2021 9:00 AM - 10:15 AM (CST)

Tool Kit - Building Digital Trust

To say 2020 was a time of disruption is an understatement. Our lives as employees, freelancers, and entrepreneurs have largely moved online, transforming the way we operate, communicate and share information. We are facing a newly-accelerated pace of digitalization added to the already increased level of connectivity of the 5G era.
Alongside the changes it brings, disruption also holds great opportunities. The further shift into the digital space paves the way for your business to transcend physical borders and expand into new markets. Beyond technology adoption, seizing new market opportunities in the era of digitalization means:
A call to action to safeguard your digital assets in response to the increased activities of hackers and cybercriminals;

Setting up your business to meet the mandated privacy and cybersecurity measures applicable in the market.
Preparing your U.S. business to expand into other markets is a necessary step to seize the immense business opportunities that the market presents. This preparation work will help you, as a leader, to start building digital trust with leads and clients, specifically in the market.
This interactive session helps you make your investments work. Priya will specifically provide:
Essential input on core ingredients of cyber capacity for entrepreneurs and consumers

Implementable steps for safeguarding your digital assets

Valuable insights into the compliance mandated in the market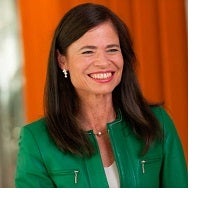 Dr. Priya Abraham - Biography​​
Dr. Abraham launched a self-funded start-up using digital business and operating models after two decades as an international corporate consultant and business school professor. In under two years, Cyberconnecting acquired a booming customer base among the best-known companies and start-ups worldwide.

One of the great challenges for business leaders is learning to embed their existing expertise in the growth opportunities provided by today's digital economy, fully remotely. This is where Dr. Abraham comes in. Her help isn't only theoretical – her real-world experience backs her up, supported by her strong academic background and her decades of making others successful. Having lived in Europe, Russia, United States, and the Middle East, and North Africa, she brings first-hand global experience and international best practice to the table, turning my academic stamina into digestible, hands-on business advice.
Find out more about Dr. Priya Abraham and Cyberconnecting: The Cyberpower Academy and Priya's LinkedIn Profile