University of Wisconsin-Stout Professor Emeritus Carolyn Barnhart has earned the 2020 Distinguished Service Award from the American Association of Family and Consumer Sciences.
The award, established in 1970, recognizes superior achievements in family and consumer sciences, outstanding contributions to the family and consumer sciences profession and sustained association leadership at state and national levels. AAFCS is the professional association for family and consumer sciences.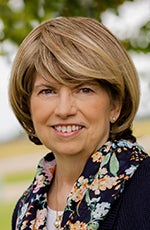 "I was honored and humbled," Barnhart, of Menomonie, said of receiving the award. "My state honored me by nominating me, and then a national committee evaluated all the nominations to select me as an honoree."
Barnhart has been a member of AAFCS for 50 years, joining while she was a student at UW-Stout in 1970; she earned her Bachelor of Science degree in home economics education. She earned her master and doctorate degrees in educational policy analysis and administration at the University of Minnesota. Prior to her retirement in 2011, she served as chair of the food and nutrition department at UW-Stout and taught on campus for 36 years.
"As the most prestigious award of the family and consumer sciences profession, the Distinguished Service Award is a tribute to outstanding members for their professional achievements and sustained leadership," it was noted in a letter from the AAFCS President Jackie Ogden and campaign coordinators Karen Goebel and Mary Kaye Merwin.
The award is scheduled to be presented to Barnhart Sunday, June 28, in Baltimore during the AAFCS 111th annual conference and expo. AAFCS has asked that the organization's website be checked for updates regarding the conference because of the COVID-19 pandemic and potential travel restrictions at that time.
"Carolyn lives the mission and values of AAFCS in all that she does," Merwin said in the letter. "Whether planning an event to celebrate the achievement of others or responding to a question from a grandchild, Carolyn listens, encourages, educates and acts accordingly."
Mary Hopkins-Best, emerita dean of the UW-Stout College of Education Health and Human Sciences, said after retirement Barnhart has continued to advise the members of the Tau Chapter of Phi Upsilon Omicron, an honor society affiliated with family and consumer sciences at UW-Stout, and encourages students to become involved professionally.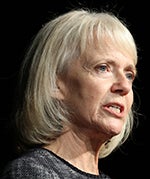 "Her advisement of student organizations is legendary," Hopkins-Best said in the letter. "Carolyn selflessly advised multiple student organizations during her formal career and beyond. I will never forget her asking if I would approve her continuing advisement of student organizations after retiring, which I enthusiastically did."
At the awards dinner, Barnhart will be presented with a book of letters from colleagues and friends citing the ways she's affected their lives and shaped the profession.
In 2018 Barnhart received the Lorraine Missling Award for Distinguished Service in the Delta Kappa Gamma Society International. Delta Kappa Gamma is for key women educators. Barnhart was a past chapter president.
She has served in international and national roles as President of the American Association of Family and Consumer Sciences and the Phi Upsilon Omicron Honor Society. She is assisting with the 2021 AAFCS Leadership Academy for new professionals.
A travel scholarship has also been started at UW-Stout in Barnhart's name. The Dr. Carolyn Barnhart Student Travelship would be awarded to students enrolled in programs in and related to family and consumer sciences education.
The scholarships would provide financial assistance for students to participate in state, regional and national professional organization conferences and meetings related to the discipline. The scholarships also will be used for such things as membership in Phi Upsilon Omicron, American Association of Family and Consumer Sciences, Wisconsin Association of Family and Consumer Sciences, Delta Kappa Gamma and Family, and Career and Community Leaders of America.
To donate go to the Dr. Carolyn Barnhart Student Travelship Fund. To send a check, direct it to the fund name at Stout University Foundation, 712 S. Broadway St., Menomonie, Wis., 54751.
###
Photos
Carolyn Barnhart / Photo courtesy of Andrew Samplawski
Mary Hopkins-Best