Teachers turned students recently in the University of Wisconsin-Stout Fab Lab as part of the WiFab Retreat West, a three-day immersion in design and digital fabrication.
Participants, while at the university's Fab Lab June 28-30, went through many experiences to learn the difference between completing a "project" and going through an engineering design process
They also were introduced to basic electrical components and completed labs to experience what electrical components do in a circuit. Using this information, they determined the correct components needed to make a light-up dog tag. They also built upon this knowledge and programmed a microcontroller to automate a circuit when making a cardboard advertisement, cut with a Fab Lab laser.
Dane Helnore, a 2020 technology education graduate who teaches at Chippewa Falls High School, attended the retreat to get student project ideas and network with other teachers.
"It's scaffolding in learning," Helnore said. "There is an end goal in sight. It's about process learning, hands-on learning and reflection on the process."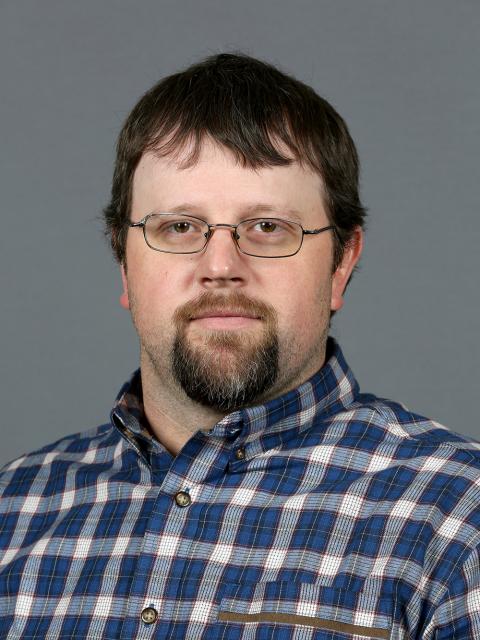 WiFab Retreat West last year went all virtual because of the COVID-19 pandemic. About 17 middle and high school educators from across the state attended WiFab Retreat West this year. Fox Valley Technical College in Appleton will host WiFab Retreat East Tuesday, July 13, through Thursday, July 15.
Mike Cropp, UW-Stout Fab Lab manager, teaches the retreats with Steve Meyer, manager of STEM education and development at Fox Valley Technical College, and Laurence Charlier, fab lab director at Northwestern High School in Maple and a technology and engineering teacher.
"It was great to be back in person again," Cropp said. "Everyone can sit in the Fab Lab, work on a project and talk about it together. It's a great networking opportunity and to learn from one another. We want them to be creative in the solutions while they are thinking and problem-solving."
Meyer said those teachers then take that knowledge back to classrooms to help create the next generation of problem-solvers. "Techniques are changing so quickly it's hard to know what the technology will be," Meyer said. "We do know every kid in the future needs to think. We want kids to do continuous improvement and learn how to make things better all the time. This is about collaboration and making sure students go on to be more innovative in the future."
Charles Nolt, a WiFab Retreat West participant, begins his teaching career in the technology department at Northwestern High School this fall. Nolt has been a mechanical engineer for the past seven years working at Boston Scientific and at a custom lighting company in Utah in  research and development.
Nolt was looking for a change and wanted to start a career that would have an impact on and make a difference for future generations.
"The biggest takeaway for me has not been the technical but an introduction to the educators," he said. "These people are involved. They have passion and compassion. It's inspiring to me. They are the people I want to become."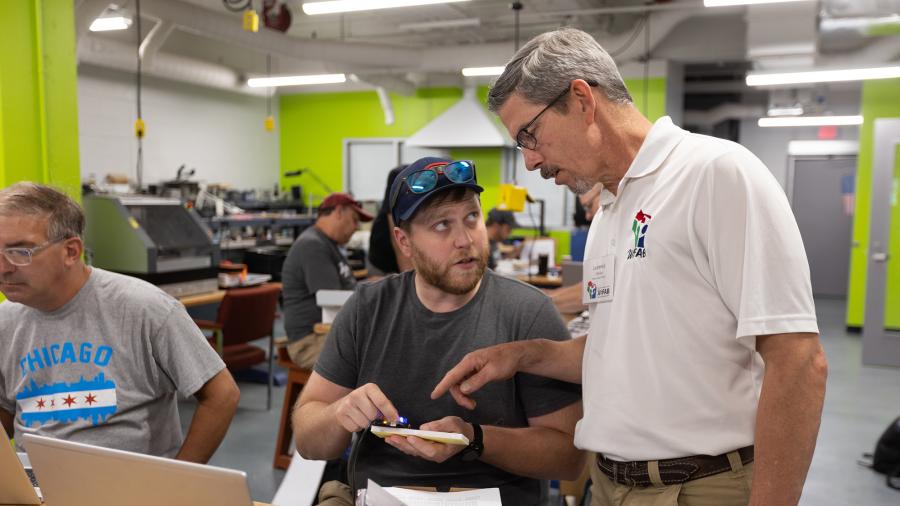 Elk Mound High School technology education teacher Lucas Audorff attended the retreat as part of a $25,000 Wisconsin Economic Development Corp. grant the high school received to update the school's fab lab. The updated fab lab site is expected to be ready for the 2022-23 school year.
"Instead of just doing a project, it's more of what is the process, " said Audorff, a UW-Stout 1998 technology education alumnus. "It's using the technology they already know for a purpose. We are cutting the cardboard, to support a sign, that we will use to showcase a project."
Helnore said he enjoyed returning to UW-Stout and making connections with others in the technology education field. He praised the university's career focus. "The professors here have real-life experience. That's extremely valuable."
Fab Lab founded in 2013
UW-Stout's Discovery Center Fab Lab was founded in 2013 with the assistance of a multiyear $520,000 Growth Agenda award from the UW System. It features digital fabrication machines that are programmed through computer software. The Fab Lab provides open access to students from all UW-Stout programs, further bolstering the Discovery Center's facilitation of collaborative, multidisciplinary efforts.
The Fab Lab provides access to a variety of tools, including computer-aided design and desktop manufacturing technologies, to help bring ideas to life. The open Fab Lab environment removes barriers, such as access to equipment and technology, while serving as an incubator for applied research, innovation, job creation and economic development. 
WEDC has developed a Fab Labs resource page for its website that provides districts with information and a video on how to set up, equip and implement best practices. Content was provided by UW-Stout and Gateway Technical College.
In addition, UW-Stout, with funding from WEDC, has developed a web portal that allows fab lab schools to communicate with one another on issues such as curriculum development and implementation, equipment usage and training. Districts also may request technical assistance.
UW-Stout offers a technology education degree program on campus and online.