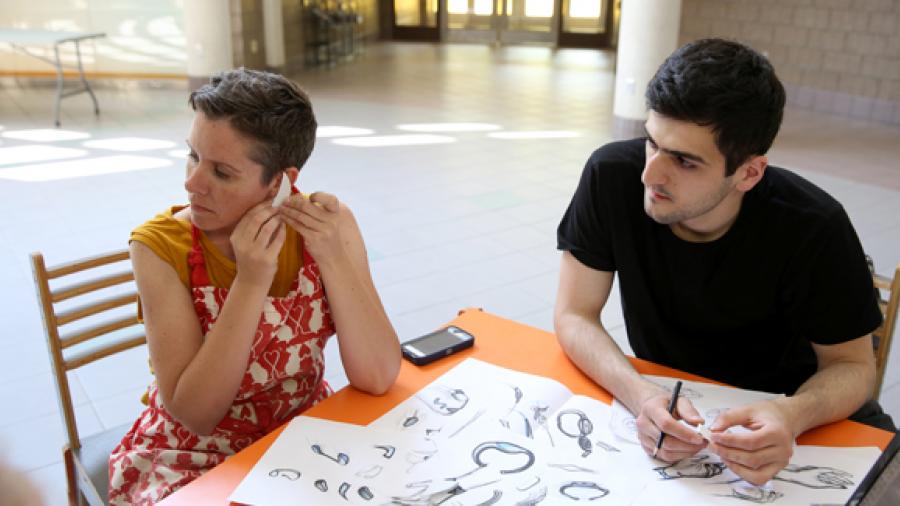 Imagine running or walking the streets at night lacking the appropriate reflective gear. A car is coming, but the driver can't see you.
Yaroslava Barmenkova and Azamat Tavitov from the National University of Science and Technology (MISiS) in Moscow, Russia, recently worked for two weeks with University of Wisconsin-Stout Associate Professor Jennifer Astwood to develop sensory device prototypes.
Their collaborative work on sensory devices and digital fabrication, as a part of the scholar/faculty exchange partnership between UW-Stout and MISiS, involves concepts that begin to solve the night pedestrian visibility problem.
"We are focusing on wearables and designs that speak to the term conspicuity: to be seen or to draw attention to," said Astwood, who teaches industrial design in UW-Stout's School of Art and Design. 
Astwood's safety device is expected to respond to proximity, lighting up to alert both runners and drivers. The goal of each concept is to meet the needs of advanced safety technology. 
Astwood introduced ceramics to the Russians as a way to produce the sensory devices with molds, which proved highly beneficial to both scholars. Barmenkova said that it was a "priceless experience." 

In addition, the group tossed around ideas to formulate gender neutral or gender tailored designs: earrings, bracelets, watches and more.
Last year, Astwood worked with Barmenkova and another MISiS scholar to develop a lighting prototype. Barmenkova's device reacted as a motion sensor; Astwood's responded to air blowing onto the device. 
Astwood further presented the project to the Midwest Industrial Design district conference. 
Their latest ideations remain in progress. The work will continue when the Russian collaboration resumes.
Connecting with MISiS
The MISiS partnership began not long after Maria Alm, dean of the College of Arts, Communications, Humanities and Social Sciences, was employed at UW-Stout in August of 2012. This coincided with the opening of UW-Stout's digital fabrication laboratory, in the Discovery Center. She sought out possible partnerships with Russian universities, as she had connections and academic experience with Russian language and literature.
Noah Norton, former associate professor of industrial design who passed away last April, was another key figure in uniting both universities. He had traveled to MISiS to collaborate at the start of the exchange.
"We had just opened our fab lab when I started here, and theirs was recent as well," Alm said. "It was having fab labs that really connected us. They had the first fab lab in Russia, still the largest and most prestigious there, and they have a master's program in digital fabrication that is taught in English."
The tasks of this exchange involved not only the conceptualization of these devices but also to develop the curriculum for new faculty exchanges. Astwood and Alm anticipate incorporating students into the partnership next year. 
Astwood will be traveling in November to Russia again for a faculty exchange. In summer 2018 she will return with a group of UW-Stout students to teach a course on digital fabrication, spending around three weeks at MISiS and finishing the course at UW-Stout for an additional two weeks.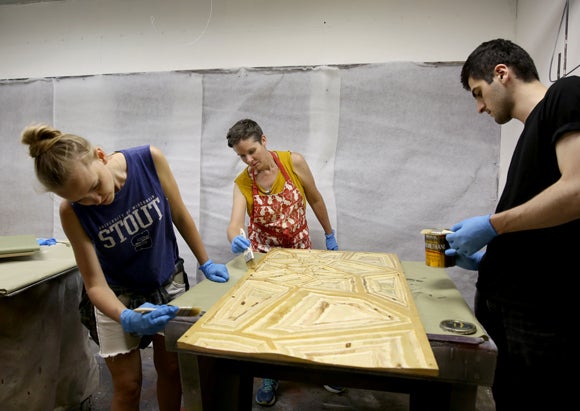 Having access to the fab lab at MISiS will allow students to experience a larger, more specialized industrial design program. Astwood mentioned that visiting scholars can learn a great deal of research strategies from UW-Stout as well. 
"It's pretty phenomenal," Astwood said. "We always create magic. I don't know how else to say it. It inspires my students, and it's pushed my research to another level."
###

Photos

Top: UW-Stout Associate Professor Jennifer Astwood, left, and visiting Russian scholar Azamat Tavitov try a prototype of a sensory safety device that would fit over a person's ear. 

Middle: The process of developing new sensory safety devices includes concept sketches. 

Bottom: UW-Stout's Jennifer Astwood, center, and Russian designers Yaroslava Barmenkova, left, and Azamat Tavitov work on sensory safety devices during a two-week program at UW-Stout.