Richie Holder witnessed a transformation while he was earning his bachelor's degree at University of Wisconsin-Stout. It was his own.
"I learned how to be a scientist, grew into a man and made some fantastic lifelong friends along the way," said Holder, who graduated Dec. 18 with a degree in environmental science. "I would not trade my experience at Stout for the world."
The native of Hortonville, in east-central Wisconsin, easily could trace that personal progress over the past 4½ years to one adventure and experience at a time. Going 200 miles away to college became just the start of an immersive undergraduate journey.
During the 2019 spring semester, Holder took advantage of UW-Stout's Study Abroad program by studying at Southern Cross University in Australia. "Meeting great friends, exploring a new country and gaining more independence was a great experience for me," he said.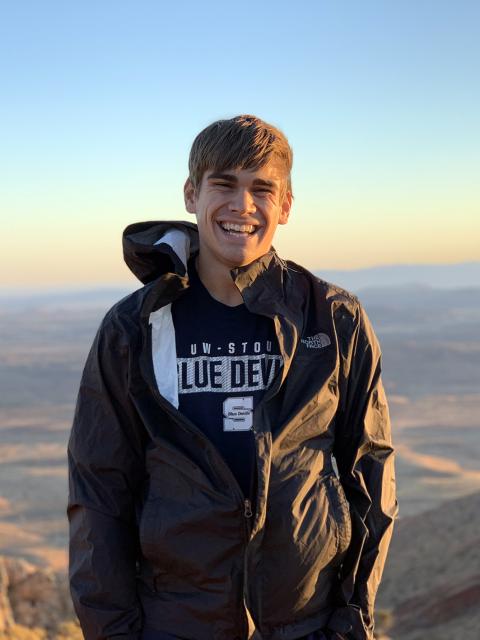 During the summer of 2021, he enjoyed a cooperative education position with a noxious weed lab at Montana State University in Bozeman, Mont. Holder's concentration within environmental science was natural resource conservation and he was a lab assistant at UW-Stout, making the co-op a natural progression in his learning experience.
"I did vegetation surveys all across Montana, camping for most of the summer. It was a perfect sampler of what working looks like, and I got to practice skills learned at Stout," Holder said.
He also enjoyed memorable fly fishing outings as he camped and worked.
Co-ops at UW-Stout, which include academic credit, are through the Cooperative Education and Internship Program managed by Career Services.
"That was really a life-changing experience for him in terms of realizing what he wanted for the future," said Assistant Professor Keith Gilland, who was Holder's program director.
This past October, a little closer to home, Holder presented research at the University of Minnesota's Minnesota Water Resources Conference, which was held virtually, and at UW-Stout's STEM Student Expo in December to wrap up his college career.
His major research work was a project titled "Urbanization Effects on Stream Habitat and Macroinvertebrate Population." He created a baseline of the quality of stream habitat and the insects found there.
"We can use that information to see how successful restoration of Galloway Creek (in Menomonie) is after restoration is complete. The experience was valuable because I got to learn what grant writing, data collection, data entry and manipulation look like in the environmental science field," Holder said.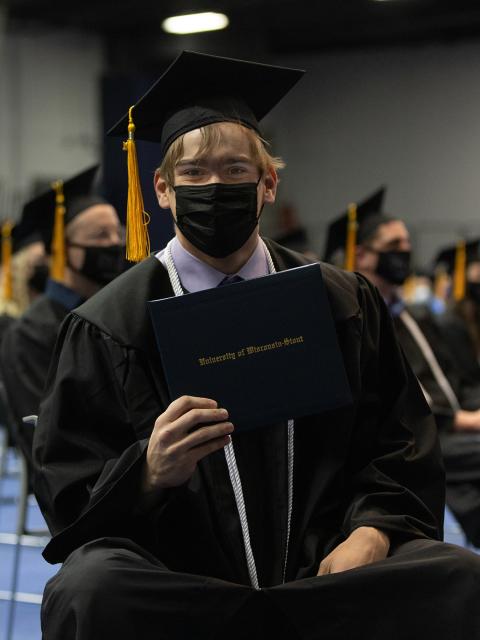 Holder was a lab assistant for seven semesters and was nominated for Outstanding Undergraduate Researcher at UW-Stout. He also was a member of the student Natural Areas Club; members volunteer for local natural resources projects.
"Richie has been a fantastic person to work with for his entire time here at Stout," said Gilland, who also was his mentor in the lab. "He's smart, a hard worker, independent, driven, has a good sense of humor and he's game to throw himself into any kind of project whether it's greenhouse hydroponic systems, urban stream ecology, grassland restoration in Colfax, a study abroad in Australia, or rangelands in Montana."
A personal challenge and post-college plans
As his successes stacked up, Holder gained even more confidence by overcoming a personal challenge at a new level. He has a working memory disorder, a learning disability that makes it difficult to retain information. He has dealt with it since middle school.
"For me, that means learning comes from lots of repetition. The struggles I had as a child with learning taught me the study habits that have led to my success at Stout," he said.
Holder used resources available at UW-Stout's Disability Services and advocated for himself by explaining his situation to professors and asking for assistance when needed, he said.
Now, with one goal complete, Holder already has set another goal — graduate school — that promises to provide new experiences and extend his education journey to new levels and places.
He is studying for the Graduate Record Exam and has several universities in mind. He plans to study restoration ecology in grasslands.
"I feel prepared for the next steps after Stout. This is in thanks to Dr. Gilland, who has been an amazing mentor. Stout gave me the foundation that all other learning is built on," Holder said.
Gilland is confident that Holder will make a difference wherever he goes. "I'm sure with his attitude, personality and work habits he'll be successful at whatever he chooses to pursue. We'll miss his presence around Jarvis Hall, but I can't wait to see what's next," he said.
###