University of Wisconsin-Stout senior lecturer of applied peace studies and geography Jim Handley was honored recently with the university's 2017-18 Educator of the Year award at the 55th annual Greater Menomonie Area Chamber of Commerce Excellence in Education banquet.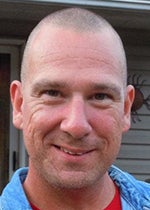 Handley, who has worked at UW-Stout for 10 years, said his teaching philosophy revolves around student empowerment.
"I emphasize how much power students have to make a positive impact on their community and the world," Handley said. "I help facilitate dialogue in class about difficult topics related to the self-defeating violence and oppression that damages our communities," he said.
"Then I help students develop the skills and knowledge necessary to struggle for justice. My goal is to have students leave my class with an understanding of the root causes of the social problems that plague our communities and the skills and knowledge to make those systems better. Ultimately, I'm helping students become informed, strategic activists who are prepared to change the world."
This is Handley's second Educator of the Year Award, also earning the honor in 2012.
During spring break, students in his Nonviolence in the Civil Rights Movement course travel to historic civil rights sites, including the Edmund Pettus Bridge in Selma, Ala., the Equal Justice Initiative in Montgomery, Ala., and the Lorraine Motel in Memphis, Tenn.
"It's a huge honor to be recognized for what I do," Handley said. "We have many amazing educators on this campus committed to helping students grow and learn so to be recognized from that group is very humbling."
Handley said he never planned on becoming an educator, reluctantly taking a teaching assistant position fresh out of graduate school because he needed to earn some money. "It turns out I really liked it," Handley said. "Then, when I developed an understanding of how important education is in relation to creating positive social change, I was inspired to combine my love of teaching with my commitment to working for justice."
The most enjoyable part of education, Handley said, is watching students "become powerful agents of change.
"When I see students engaged in strategic, thoughtful, nonviolent activism that is meant to make our social institutions more oriented toward justice, I know we've done our job," Handley said. "Many students come to UW-Stout solely to get a required credential to start their career. When I see students embrace the extraordinary opportunity they have to grow and develop as human beings in ways that are liberating and transformative for them and their communities, I feel a sense of joy that is difficult to put into words."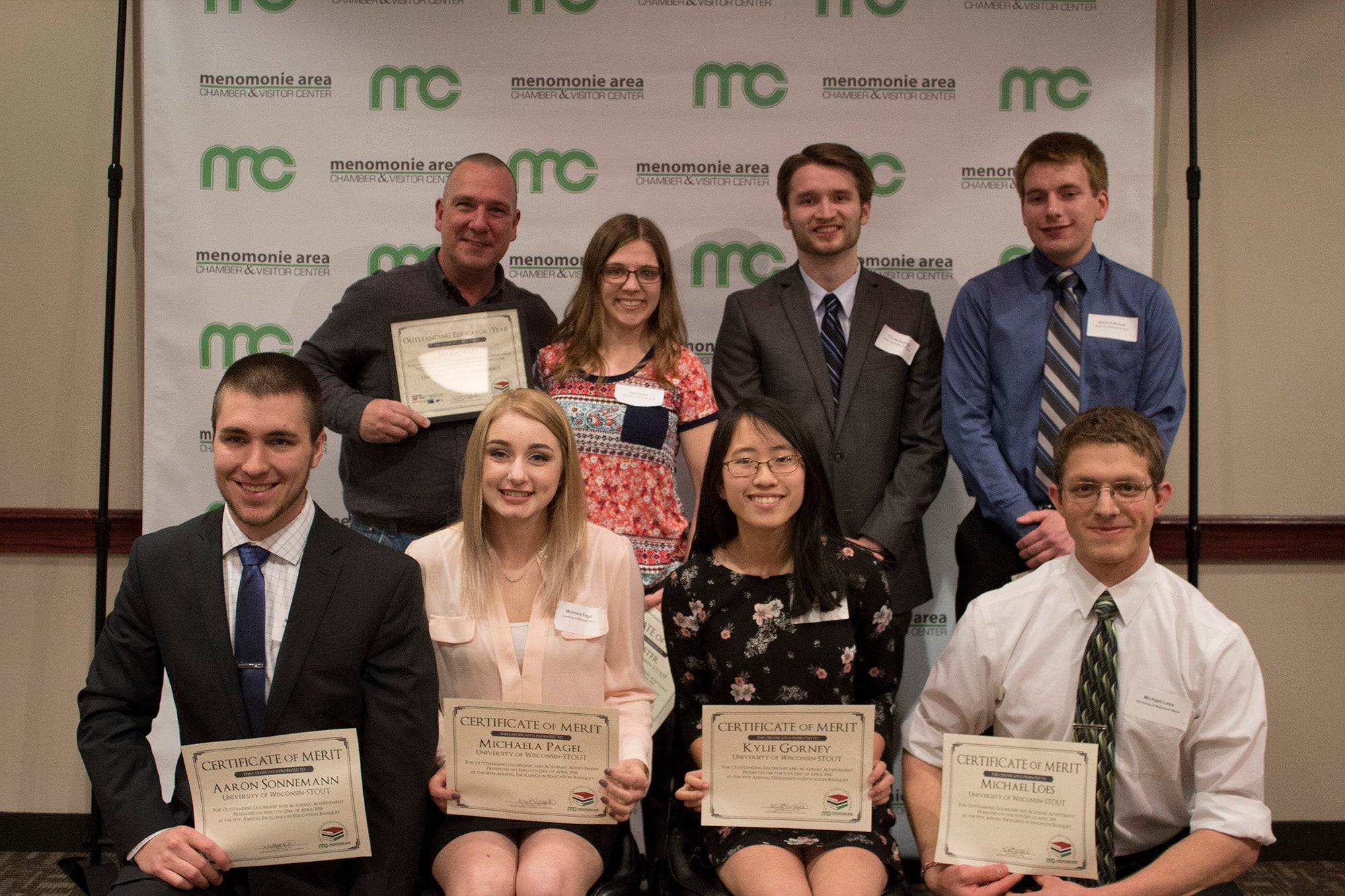 The top 25 graduating undergraduate students also were honored at the banquet. UW-Stout will hold commencement exercises Saturday, May 5.
The top 25 graduating undergraduate students were selected based on grade-point average.
UW-Stout Top 25 Graduates
(Name, hometown, major)
Ross Curry, Wisconsin Dells, information and communications technology
Annie Debroux, Irma, early childhood education
Andrew Denzer, Lake City, Minn., plastics engineering.
Nicholas Egan, Slinger, graphic communications
Justin Ellefson, Spring Valley, applied mathematics and computer science
Stephen Felton, Richland Center, computer networking and information technology
Zoe Foster, River Falls, human development and family studies
Kevin Fuhrman, Menomonie, plastics engineering
Kylie Gorney, Three Lakes, psychology
Timothy Grabrian, Minneapolis, information and communication technology
Noelle Guldan, Stratford, cross-media graphics management
Alexandra Hagberg, Elk Mound, special education
Trever Koester, Somerset, applied science, premedicine
Michael Loes, Anoka, Minn., applied science
Kelly Martinson, Muskego, psychology
Michaela Pagel, Helenville, hotel, restaurant and tourism management
Kevin Rindfleisch, Menomonee Falls, information and communications technology
Alison Rivers, Cottage Grove, Minn., psychology
Josephine Segner, Owatonna, Minn., retail merchandising and management
Aaron Sonnemann, Sussex, manufacturing engineering
Olivia Thern, New London, human development and family studies
Michaela Trutna, Big Lake, Minn., criminal justice and rehabilitation, vocational rehabilitation
Sarah Vetsch, Nelson, early childhood education
Elizabeth Wood, Mineral Point, dietetics
Kamolchanok Yingneuk, Whitehall, management
###
Photos
Jim Handley
UW-Stout honorees at the Greater Menomonie Area Chamber of Commerce Excellence in Education banquet.