Alexander Mayhew loves to sketch. And since he can remember, he has loved to sketch shoes. He's been fascinated with shoes his whole life. The extra spending money he earned with his first high school job went toward building his sneaker collection.
Sketching the shoes in his collection led to Mayhew coming up with his own designs – a first step in fulfilling his desire to be a footwear designer.
"The right pair of shoes can make or break an outfit," he said. "There's something about well-designed shoes that demand one's eye. People, whether they're sneaker-heads or not, notice a cool pair of kicks."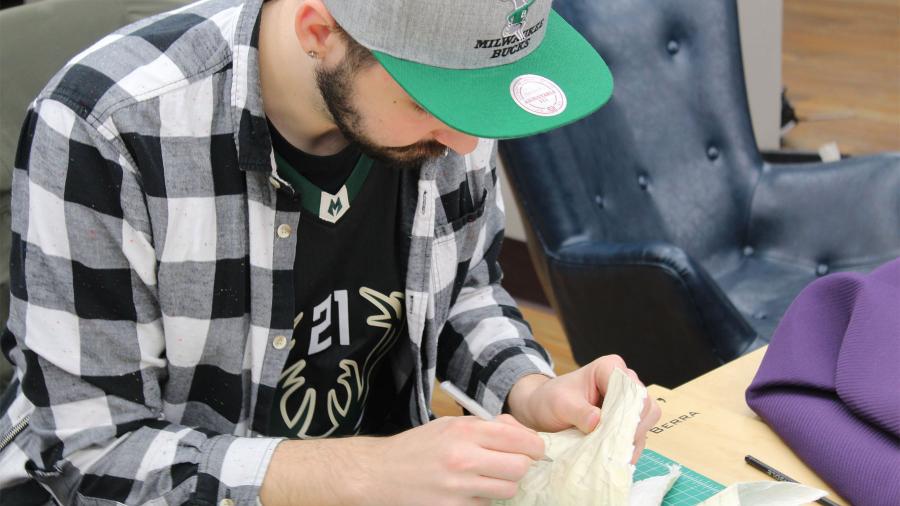 Mayhew grew up in Madison, and in his search for in-state schools with design degrees he was drawn to University of Wisconsin-Stout. After a tour of both the apparel design – now fashion and retail – and the industrial design programs, he knew a degree in industrial design would lead him to the career he wanted.
"After a tour of Stout, I was sold. I really saw the value of going for industrial design and learning that versatility of product design," Mayhew said. "When I saw the program's Advanced Design drawing projects up in the hallway, I knew that was the program for me."
Crocs collaborations
Mayhew graduated in December 2018. Before his final semester, he began to hunt for an internship and possible careers. Crocs, the internationally known footwear company based in Niwot, Colo., posted an internship. Mayhew landed it, leading into a full-time position upon graduation.
Mayhew is a footwear designer for Crocs, living in Denver. He enjoys the challenge of collaborating on multiple projects at once, watching design guided by research transform into prototypes and marketable products.
"Shoes are literally a grounding element of one's outfit. They help us travel, protect our feet, enhance our performance, bring us comfort and joy and style," he said. "To be the one creating those elements for others to experience and enjoy, there's nothing more rewarding."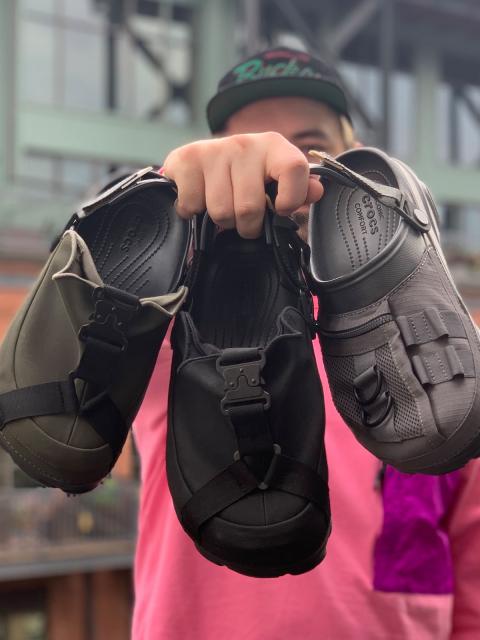 Mayhew's first collaborative design was BEAMS X Crocs, which marketed in spring 2019. BEAMS, a Japanese clothing brand, approached Crocs to collaborate on many styles. He's also collaborated on teams to develop Liberty London X Crocs and Literade Modform Slip-On.
"Collaboration is a huge process. For every new pair, so many people and so many hands touch those shoes in bringing them to life and delivering them to market," Mayhew said.
JUST LOVE: from tattoo to shoe
June marks Pride Month, and to celebrate the LGBTQIA+ community, Crocs wanted to share a strong and proud message. For a new Crocs style, Mayhew worked on the collaborative team with actor and model Ruby Rose to redesign the classic Bae clog.
Ruby Rose's tattooed knuckles inspired the new style's name – JUST LOVE. The Ruby Rose X Crocs team wanted a product to support exactly that – to just love.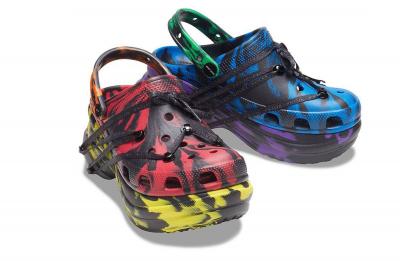 Following the Pride Month theme, the team looked to the Rainbow Flag for color and pattern. Through both a marbling process in production and movable Jibbitz for lace holds, each pair of JUST LOVE is as unique as its wearer.
"I was super inspired by fluidity, self-expression and celebrating everyone's uniqueness," Mayhew said. "So many different talented people helped bring JUST LOVE to life – to ideate, create and deliver a strong and proud story through product."
JUST LOVE was a limited edition. The design sold out within the first week of its release in June.
Passion for industrial design
Mayhew's favorite thing about industrial design is that it's completely what you make of it.
"Industrial design is very demanding and challenging," he said. "But there is nothing more rewarding than presenting your final designs and literally getting to create products that better people's lives and solve problems."
In his case, he's built his love for sneakers and talent for sketching into a career as a footwear designer, bringing joy through self-expression. He's translated the skills he learned in his classes to his footwear projects and consulting work, making his dream a reality.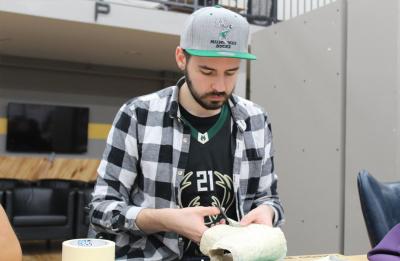 "Alex was a pleasure to work with and such a hard worker," said Professor Jennifer Astwood, program director for industrial design. "It's been a pleasure and an inspiration to see him flourish in his design career. I can't wait to see what other things he will achieve."
"I'm always looking to improve my skillset, tackle new challenges, problem-solve through design and create new products for consumers to love," Mayhew said. "If you're passionate about getting into industrial design, then go all in."