University of Wisconsin-Stout graduate Amber Herrick wants to see military helmets improved to help prevent concussions.
Herrick, who graduated May 4 with a degree in industrial design, for her senior project designed the Dark Titan Army Combat Helmet that would have more cushioning to protect soldiers when they fall and hit their heads or receive a blow to the head.
The padding would be similar to that in bicycle helmets. "It will give a little bit and rotate a little to help protect the skull and brain," she said.
Herrick, who is deploying with the Army National Guard in July, also designed a removable back part to the helmet so they fit better on women who have long hair and wear a bun. "A lot of times a helmet gets stuck on the bun and the helmet goes in front of your eyes," she said.
Herrick was one of many seniors who shared their work at the School of Art and Design Senior Show on May 3 at UW-Stout.
She estimates her design would cost about $200 per helmet, up about $8o from standard helmets. "It's not that far out there," she noted.
The Army has about 30,000 recorded concussions a year. "That's reported," said Herrick, of Augusta. "A lot of people don't report them." Concussions are underreported because soldiers don't want to have to take time off or want to stay with their platoons.
Herrick joined the Army National Guard when she was a first-year student because she wanted to go to school and yet serve her country. She has signed on to serve six more years. Her deployment is for one year.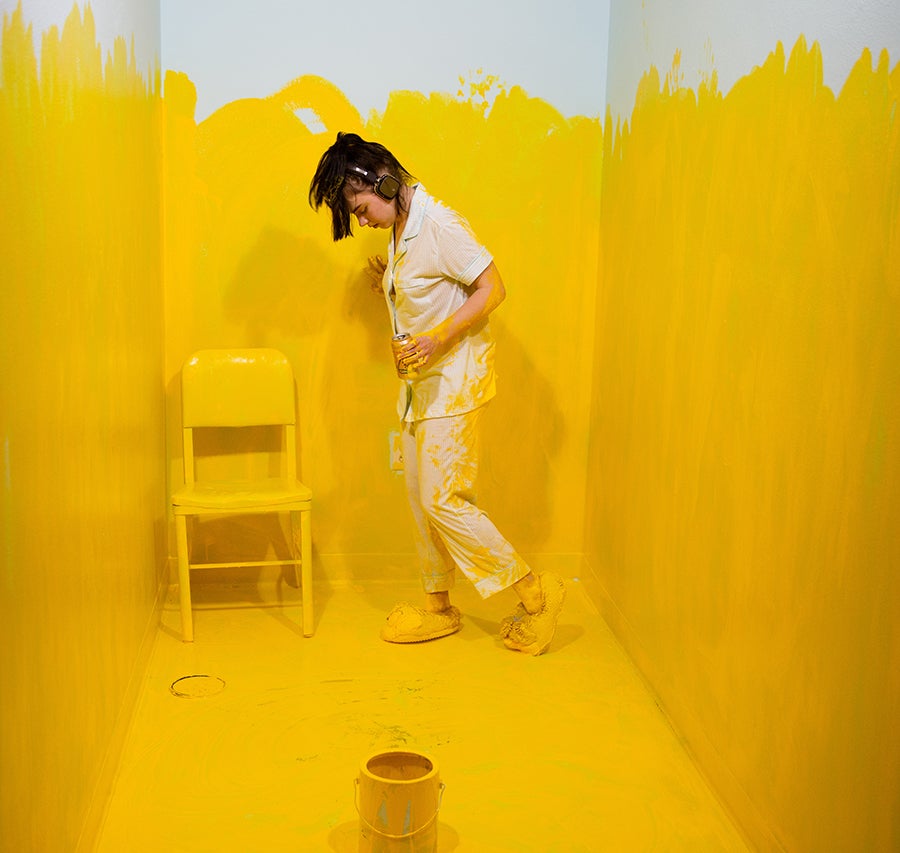 Police drone
Blake Shermer, who graduated May 4 with a degree in industrial design, for his senior project created the concept of a drone to be used by police. If an emergency such as an Amber Alert is issued for a missing person or an abducted child, drones housed in median traffic lights could be deployed to look for a vehicle in the area. The drones would be able to see 360 degrees.
Shermer talked with the Menomonie Police Department for research. Also, Jayme Closs' abduction in Barron County played a part in Shermer wanting to look into a drone project, as well as his interest in technology. Closs was abducted in October from her home by Jake Thomas Patterson. He was sentenced to life in prison without parole on two counts of first-degree intentional homicide for the murders of Closs' parents, Denise and James.
"I'm super-intrigued where technology is going and how we can use it to benefit society," Shermer said. "A lot of police departments have drones already."
Fire Escape Pack
Joseph Moyer, of Fond du Lac, who graduated May 4 with an industrial design degree, designed a backpack that will help people escape from wildfires. He has an uncle near Paradise, Calif., which suffered a devastating and deadly wildfire in November. When his uncle told him about the devastation, Moyer knew he wanted to design something to help people escape.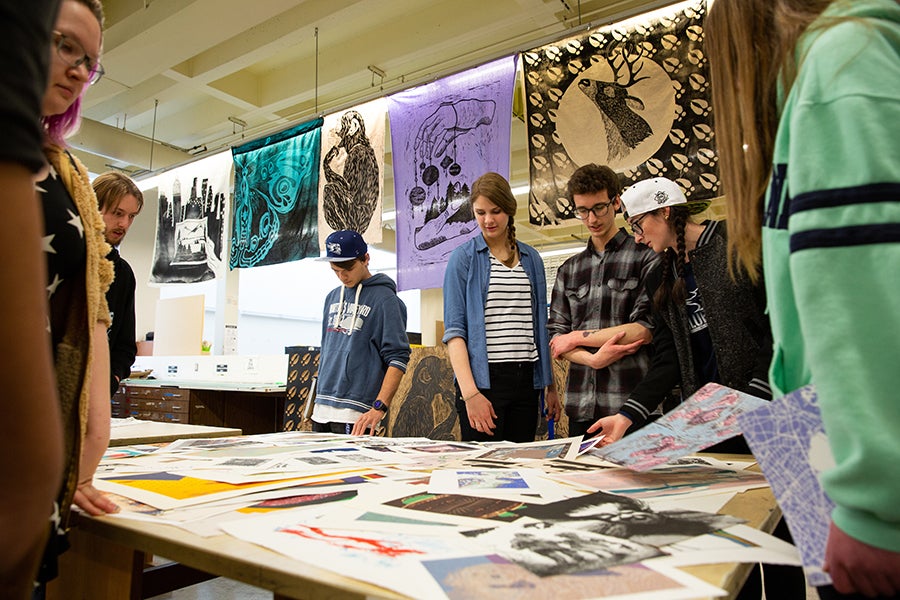 The backpack would contain a first aid kit and face mask to help a person breathe with smoke around them. It would also have headlamps to help see in the smoke and a fire blanket to extinguish a fire. A water bottle would be built into the pack.
"I wanted to research something to help civilians so they could have something ready to go in their car," Moyer said, noting he made the pack bright orange. "You want to be seen. Visibility is low."
Noah Norton award
During the Senior Show, junior industrial design major Isabel Case, of Hartland, received the Noah Norton Portfolio Prize Endowed Fund of $1,000, named in honor of Norton, an associate professor and the university's first program director of industrial design.
Norton died from leukemia in April 2017. He earned his bachelor's degree from UW-Stout. Denis and Sara Norton established the fund in memory of their son.
The award recognizes a junior in the program with an outstanding portfolio.
Case said she was pleased to win the award and will use it to help pay for school and supplies.
In the show, she created a Fornya lamp, which is Swedish for renew. The lamp has a paper pulp shade and is made from recycled wood. "I really wanted it to be simple and environmentally friendly."
Case said she has always enjoyed being creative, making artwork. "Industrial design is the perfect combination of creative and improving people's lives," she said.
###
Photos
UW-Stout studio art major Gemma Schlotthauer paints during the School of Art and Design Senior Show on May 3.
During the Senior Show, artwork is on display and for sale.