Dr. Mark and Beverly Deyo-Svendsen of Menomonie believe in supporting the four H's: hunger, housing, health care and higher education.
The Deyo-Svendsens were instrumental in providing five-year seed money that helped start the Fostering Success program at UW-Stout in 2013. The program provides guidance and resources for youth who have been in foster care, homeless or orphaned and who have an interest in pursuing higher education.
"It allowed the program to get started and to be able to plan out things," said Angela Ruppe, UW-Stout director of Fostering Success and Student Support Services. "Without their contribution, I don't think the program would be here now. It allowed the program to have a little time and space to start and grow."
Fostering success educates students coming to UW-Stout about grants and scholarships as well as provides supplemental advising about courses and resources, providing a safety net and sense of belonging to empower youth. "We want them to feel college is a place for them and know there is a place for them here," Ruppe said.
The Deyo-Svendsens, recently named Dunn County 2018 Outstanding Philanthropists by the Chippewa Valley Fund Raising Professionals, know the importance of investing in people.
"When we invest in people in need, the return is always there," said Mark, vice chair of practice for Mayo Clinic Health System's Department of Family Medicine and a family physician at Mayo Clinic Health Systems-Red Cedar Menomonie. "Ultimately it's good for all of us."
Mark and Beverly were surprised by the award. "I didn't believe it," Beverly said. "It's exciting, but it's humbling." The couple for years made most of their donations anonymously or through the Community Foundation of Dunn County.
Growing up in Maplewood, Minn., Mark's family provided a home to about 75 foster care children over the years, some for a day or two up to four years. His father was a social worker, and his mother loved caring for children. Beverly grew up in south St. Paul in a single-mother household.
"We both come from modest means," Mark said. "Having enough to provide for ourselves and others is new for us. We just hope it will encourage other people who are able to go and help others."
Grant funding received
In May, Fostering Success received a $3,700 grant from the Community Foundation of Dunn County. The money will be used to help support a summer overnight camp for youths interested in pursuing higher education. Since 2014 the camp has provided a one- or two-night experience for nearly 100 youth.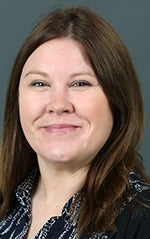 "This year, because of your generous gift, we are able to offer this experience for two nights for the youth who attend. In supporting these talented youth, you are helping to ensure that they are reaching their potential individually, contributing to our community and changing future generations for the better," Ruppe told the foundation.
Support makes all the difference in student success, Ruppe noted. Nationally, 20% of youth coming out of the foster care system apply for college and only 3% graduate. "We are missing their talents," Ruppe said. "Access without support is not really an opportunity. It is not a true opportunity if we are not supporting their needs on campus."
Beverly said it is important to support those who have been in foster care with finances, learning how college works and help them find jobs and housing. "They need extra support to navigate higher education," she said. "It is trying to replace what a family would do. I think the payoff is helping them gain independence and become contributing members of the community. Education is the way to secure independence."
UW-River Falls, UW-Eau Claire and UW-Milwaukee have looked to the UW-Stout program as a model. UW-Milwaukee launched a Fostering Success program in 2017.
"Wouldn't it be wonderful if Fostering Success were alive and well at all UW schools and Wisconsin became a destination state for educating children who have been in foster care?" Beverly said.
In addition, through the Fostering Success program, UW-Stout is reaching out to the next generation of foster youth through programming for high school and middle school age youth with overnight and day camps offering a glimpse at college life and programming geared toward college readiness.
Student strives to connect others
Brittany Coulter, a graduate student majoring in school counseling and the Fostering Success graduate assistant, has seen the Fostering Success program help students.
"When a typical college student goes home for the weekend their parents might send them back with leftovers, laundry detergent, fill up their gas tank, etc.," Coulter said "However, the students that don't have parents or don't have a home to go back to do not have access to these items. At Fostering Success, we have a supply closet with food, health products, school supplies, blankets, pillows, where the students can come take what they need at no cost."
Fostering Success provides welcome baskets for new students who had previous experience in out-of-home care. Other services include cooking lessons, driver's education assistance and connection to youth support services.
"When someone comes here and they are on their own, it makes a huge difference to get a free basket filled with college essentials. I have experience living in out-of-home care, so there is an opportunity for the students to tell me about their experiences and feel comfortable doing so because they know I can relate to them on a certain level where their roommates, friends, professors and others cannot," Coulter said.
Coulter, whose mother died when she was 13 and was raised by two legal guardians until she was 18, said she never wanted to accept help from Fostering Success when she was an undergraduate student at UW-Stout, saying it was a huge mistake on her part.
"Knowing everything I know now and all the resources I missed out on, I use that to connect students to the program who are hesitant about joining," she said. "Coming from foster care, many individuals are independent because they have no other choice. Sometimes it is hard to convince students to accept help, but knowing the difference this program could have made to me if I would have joined makes me even more passionate about getting as many students that are eligible connected as possible."
Investing in the community, UW-Stout
Along with Fostering Success, the Deyo-Svendsens, who have two grown children, have supported many other organizations over the years, including the Community Foundation of Dunn County, Mayo Clinic Health Systems, Cedarbrook Church and Mabel Tainter Center for the Arts.
They support Project Share A Meal, an outreach program of Stepping Stones of Dunn County's food pantry, to provide meals to children and their families in the Menomonie school district on weekends when school meal programs are not available. They support Habitat for Humanity and Mayo Clinic Health Systems. "Mayo invested in me," Mark said. "We need to give back to the next generation."
Mark drives a train at Give Kids the World Villa in Florida that provides weeklong vacations for children with threatening illnesses and their families. Beverly has done everything at Give Kids the World from waffle-making to busing tables.
They have lived in Menomonie 32 years and love the community and the diversity UW-Stout brings to it. "We are blessed here to have the Mayo Clinic and UW-Stout in the same town," Mark said. "UW-Stout is at the forefront of education."
UW-Stout is Wisconsin's Polytechnic University, with a focus on applied learning, collaboration with business and industry, and career outcomes.
###
Photo
Angela Ruppe