"Lord of the Rings," "The Incredible Hulk," "Iron Man" — the major motion pictures that rely on 21st century special effects could go on and on.
Now, a key aspect of the technology that makes those movies come to life and takes moviegoers to other worlds has come to the School of Art and Design at University of Wisconsin-Stout — the motion capture studio.
The new studio — giving animation, game design and other students cutting-edge industry technology — will be unveiled at an open house from 6 to 9 p.m. Friday, May 3, in Micheels Hall. The open house will be part of the semiannual Senior Show, which is free and open to the public. Parking in UW-Stout lots is free after 4 p.m.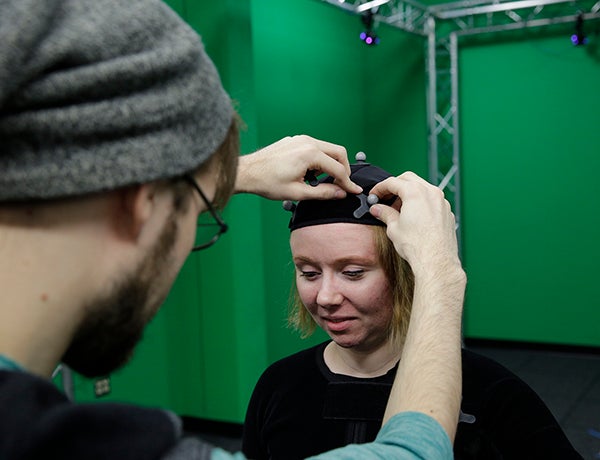 Students, faculty and staff will be on hand to demonstrate and explain how the precise movements of an actor in a special suit are transferred to a digital computer model.
Ever see a movie character, either real or animated, do something that seems impossible? Their motions were captured in a studio just like UW-Stout's and brought to life in the film with animation software.
UW-Stout's "mocap" studio is one of just a handful in the UW System and has the most state-of-the-art technology, said Dave Beck, director of the UW-Stout's School of Art and Design, the state's largest with about 1,000 students.
"We needed to look at the present and future of animation and game design, and that's motion capture. We're trying to mimic the industry," Beck said. "With this, you get much more realistic animation."
The approximately 20-by-20-foot studio, with a green screen background, was installed in January. An independent study group is preparing a manual on how to use it, and by fall it will be incorporated into classes.
"The students are so excited about this," said Associate Professor Andrew Williams, director of the game design and development-art program and the entertainment design program. "One of the senior groups redid all of their animations in the studio for a capstone game once it was operational."
With eight industry standard Vicon cameras, the movements of actors in special suits with 53 reflectors are recorded in 360 degrees to the precision of two millimeters. Essentially, the motion capture studio marries human movement to an animated figure.
"It turns the animated character into much more of an actor and puts the emphasis on performance," Williams said. "The studio captures the movement, and you can apply that to virtually anything you want, from an anthropomorphic cat to a fire-breathing dragon."
The studio is part of a larger vision. It's at the center of a new collaborative space for game design and animation students, who have labs on either side of it and common spaces for group work in the middle.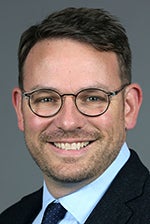 Beck sees great potential for other students on campus to benefit from the studio's ability to track and capture human movement in fine detail, such as those in the performing arts; video production; health, wellness and fitness; interior design; and athletics.
"The School of Art and Design has purposely invested in this equipment with a vision of bringing the campus even closer together around arts and technology," Beck said. "Collaborations between students, faculty and the surrounding community will hopefully be even easier now, thanks to this STEAM-focused facility at UW-Stout."
STEAM stands for science, technology, engineering, art and mathematics.
Students give it two thumbs up
On a recent day, three students were in the studio, Kayla Techmeier, of Green Bay, a senior in game design; Danielle Pedersen, of Blaine, Minn., a junior in entertainment design; and Andrew Fedie, of Oshkosh, a senior in entertainment design.
Techmeier and Fedie are part of the team, along with instructor Jesse Woodward, creating the manual for student use in the fall.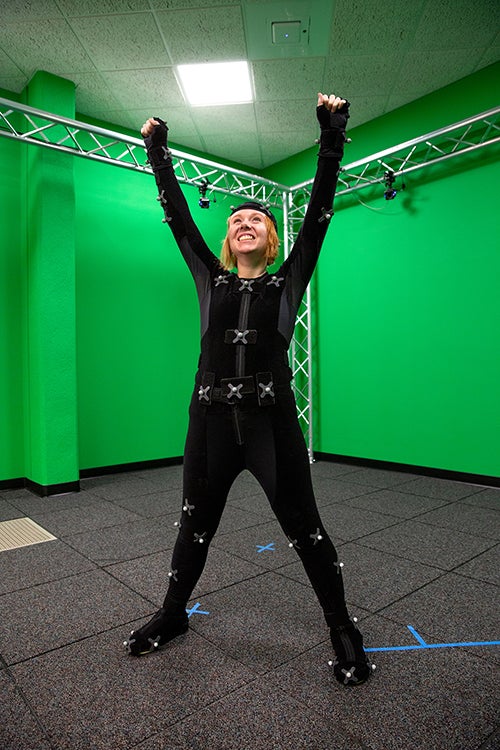 "It's a pretty simple process — setup, capture the movement and attach it to a character skeleton. Students learn how to act and direct. Having these assets to learn from is priceless," Woodward said.
Techmeier noted that the 53 reflectors on the actor's suit are used to generate a 3D skeleton, which then is assigned to a character created by the designers. "The software and technology is exactly what's being used in the industry," she said.
Pedersen was a volunteer actor in the stretchy, black suit and then watched her movements as a faceless character on the computer. "You really see the quirks of movement. This makes you pay more attention now to how movies are made," she said.
Fedie said the studio doesn't just improve animation but saves time. He estimates that a handmade animation taking 40 hours would take only about seven hours with the new technology.
"There are tons of ways to direct people and trick the cameras to get the animation you want," he said.
UW-Stout's game design programs recently were ranked among the best in the nation by Princeton Review and Animation Career Review.
###
Photos
Andrew Fedie, left, watches the movements of fellow student Danielle Pedersen as she is directed by Kayla Techmeier in UW-Stout's new motion capture studio in Micheels Hall.
Andrew Fedie adjusts a reflector on the motion capture suit worn by Danielle Pedersen.
Andrew Williams
Dave Beck
Danielle Pedersen, an entertainment design major, is surrounded by cameras as she acts in UW-Stout's motion capture studio. The cameras pick up light from 53 reflective buttons on her suit to track her movements.