The Menard Center for the Study of Institutions and Innovation has announced the winners of its inaugural Student Civil Liberty Contest.
MCSII called for UW-Stout students to submit original essays, poetry, photos, artwork and videos to help educate others about civil liberties.
A judges panel made up of two faculty, a staff member and two students considered the clarity and quality of an entry's message addressing civil liberty. Judges also considered if the entry was powerful or thought-provoking and if it fit with MCSII's mission to promote the study and rational discussion of civil liberty.
The diversity of work, messages and liberties discussed by the 15 contestants covered topics including the freedoms of speech, press, association and religion, the right to privacy, due process rights and economic freedom.
The winners of the inaugural contest are: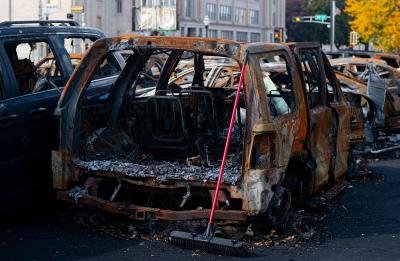 Honorable mentions, and $10 Menomonie Bucks each, went to:
Simon Brown, for his Coercive Interrogation Infographic

Matteo Vera, for his Protecting Civil Liberties Video

Shelby Vadnais, for her Bodily Integrity Collages
Digital versions of the winning entries are posted on the MCSII website and the original work is displayed in the MCSII office in Bowman Hall.
MCSII Director Tim Shiell, professor of philosophy and free speech expert, hopes the contest stimulates students and viewers to further thought and study about civil liberties.
"Since civil liberties are the bedrock of democracy, it is crucial that everyone, not just students, study and discuss them," he said. "They are complicated and controversial, so MCSII emphasizes a nonpartisan, civil and educational approach to the subject."
Elizabeth Kelly: photos of her hometown
On Aug. 23, Kenosha police officer Rusten Sheskey shot and paralyzed Jacob Blake in front of Blake's four children. During a summer of several high-profile shootings by white officers of black men and women, peaceful protests were followed by three nights of riots and civil unrest in Kenosha.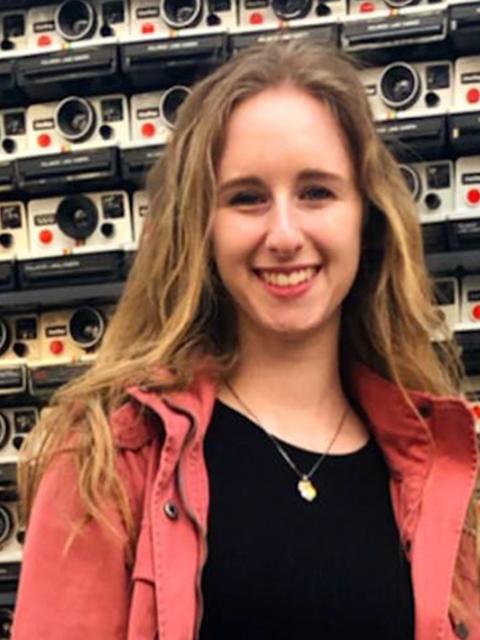 Elizabeth Kelly grew up in Kenosha. While visiting family after the riots, she walked among the wreckage of downtown. As she passed charred vehicles and crumbling buildings, Kelly snapped photo after photo. She captured the destruction for a project for her Introduction to Still and Moving Image Photography course and submitted two photos to the civil liberty contest.
"Seeing all the destruction of the burnt-down car lots, several buildings and all the graffiti messages gave me mixed emotions on the events that occurred," she said. "It made me realize this can happen anywhere, affecting people and their community. It was very real and changed their lives forever."
The contest helped Kelly reflect on what liberty means to her. In her artist's statement, she wrote, "Liberty is a human birthright. The freedom in which one chooses to do as one wills. Nothing should take away this right. Liberty is a right and shouldn't be abused by destroying property or taking lives. Liberty is for standing up for what is right and for persevering for something you believe in or want to accomplish."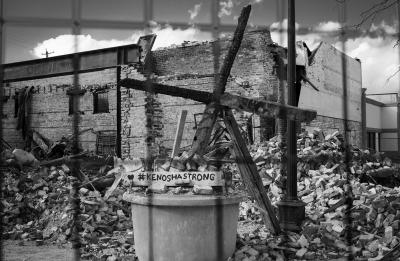 She discusses the qualities of perseverance, ambition and achievement. She believes that thanks to the nation's founding fathers, "this country is beautiful and diverse and provides so much opportunity for those that desire it and are willing to seek it out to achieve their dreams."
Kenosha is very dear to Kelly, a junior in industrial design, minoring in sustainability. "Although these pictures show how devastating it really was, I saw signs of hope with beautiful messages painted on the boarded-up businesses. Kenosha is strong, and with perseverance, they will recover," she said.
Kathryn Reeves: the benefits of inclusivity in literature
Kathryn Reeves is a senior double majoring in art education and studio art, with a ceramics concentration. She plans to teach at the college level and explore diverse artists with her students. Reeves believes that seeing yourself in the people you're studying is an important part of learning, and one that she did not have the opportunity to experience until her sophomore year in college.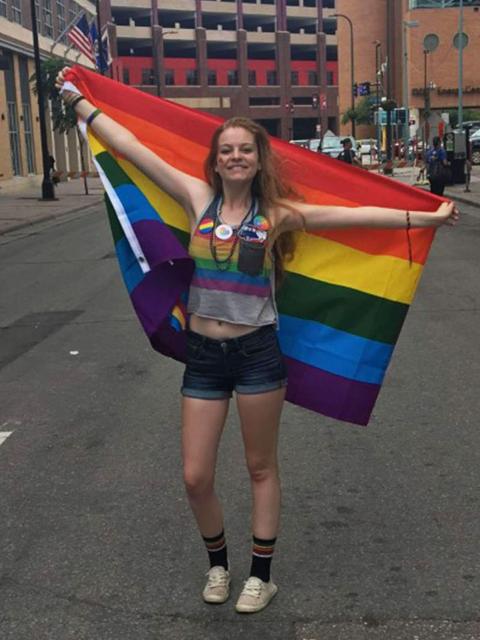 She remembers the majority of artists discussed in her high school classes were straight, cisgender, white men. As an openly gay woman, the lack of diversity was completely appalling, Reeves said.
"It wasn't until my art history course that I learned about a female queer artist. I was able to relate to that artist more than the previous straight white males we had been talking about," she said.
In her essay LGBTQIA+ Censorship in Schools, Reeves researched censorship in schools and libraries across the U.S., expressed her thoughts on the rights of the nation's youth and reflected on the challenges she faces as a member of the LGBTQIA+ community.
"In middle and high school, I was given almost no access to queer literature. Because of this, it took me a long time to figure out who I was. I spent a lot of time wondering what was wrong with me and why I didn't seem to see myself in any of the literature we were exploring in the classroom. Every student deserves to see themselves represented in the books that they read in school," Reeves wrote in her artist's statement.
Reeves, of Albertville, Minn., believes that by representing a wide range of people and communities and by including LGBTQIA+ books in the classroom, in public schools and libraries, "we can fight heteronormativity and experience the benefits of inclusivity."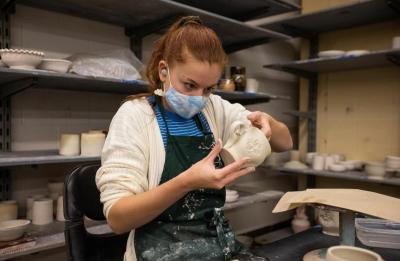 "Children need to be exposed to a wide range of peoples and groups in order to be a tolerant person," she wrote. "Without actively including all types of people, we teach our children to be exclusive."
Reeves hopes her essay shows people that creating access to queer material in schools is an essential part of teaching well-rounded and tolerant members of society.
Katrina Franda, Fighting for 'Freedom'
Katrina Franda, UW-Stout's 2019 Honors College poet laureate, writes poetry often. "When inspiration strikes, the words just come to me, and I write them down in the note section of my phone before they leave my head," she said.
Franda wrote Fighting for "Freedom" while walking to class the morning she received the contest prompt. In her artist's statement, she wrote, "The poem's purpose is to take the reader back to the beginning of our country's establishment and recognize the unjust actions that resulted in the racial disparities and inequality we encounter in our nation today."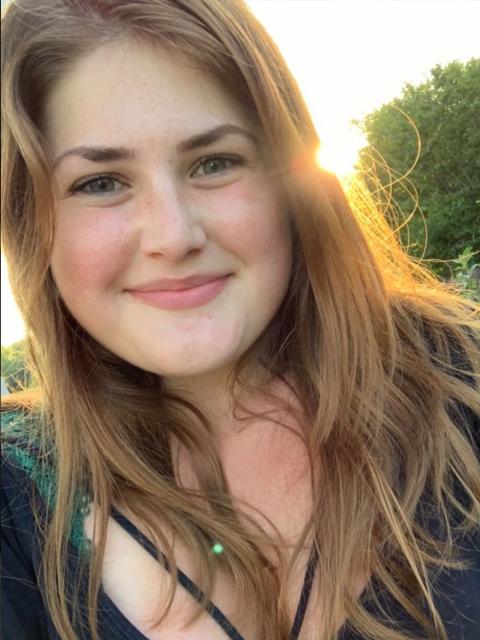 Growing up, Franda believed in the founding principle of "all men are created equal." Now, she understands that not everyone is treated equally. She sees the privileges she has been afforded as a white woman. She felt sad while writing about the man's experiences in the poem, about his pain and betrayal. And she was hesitant to submit it, not having experienced daily discrimination and prejudices.
"I tried to put myself in the place of the man in the poem, what he would have been thinking or feeling," she said. "I found it a powerful and sorrowful experience to connect with."
Franda hopes others can connect in similar emotional ways and gain more compassion and empathy, especially those who have not experienced racial discrimination. She believes connecting with those emotions will propel societal change.
Franda, of Sherwood, is a graduate student in clinical mental health counseling. "As a counselor-in-training, it's my goal to help improve the lives of my clients and ensure they feel safe," she said. "But it's hard to do that when the very place they live doesn't have the same goals for them. Civil liberty is supposed to be afforded to every member of our society, so let's work together to make that a reality."
MCSII is planning a second civil liberties contest for spring 2021.