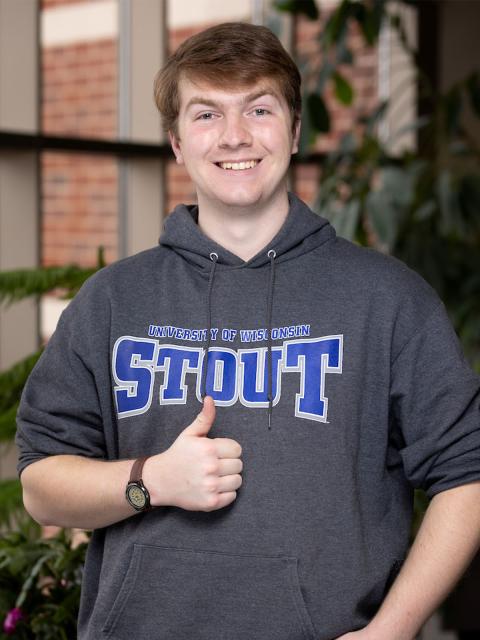 This summer, Thompson is a mechanical engineering intern at Oxbo, a world leader in niche agricultural equipment, in Clear Lake. Oxbo manufactures equipment for the harvesting of corn, coffee, beans, olives, grapes, citrus fruits and more.
"I am learning new skills in SolidWorks 3D Computer Aided Drafting, helping clients find replacement parts, and updating parts to achieve international standards and improve harvester production life," he said.
The Cooperative Experience and Internship Program through the Career Services office had a record 1,130 students participate in the 2021-22 academic year.
Thompson, of Woodville, also served as a lab tech in UW-Stout's Controls and Instrumentation and 3D Printing labs.
"The CI Lab gives us the most hands-on feel for what we're doing," Thompson said, "from learning how to use various electrical sensors to designing hydraulic and electrical control circuits to redesigning common manufacturing processes through Programmable Logic Controllers, or PLCs."
In the 3D Printing Lab, he helps students from various courses, most notably the Materials and Manufacturing Processes course.
"Most printing requests come in the latter half of the semester, when groups are finalizing their project designs and need custom parts. In total, more than 200 students use our lab each year for manufacturing their designs," he said.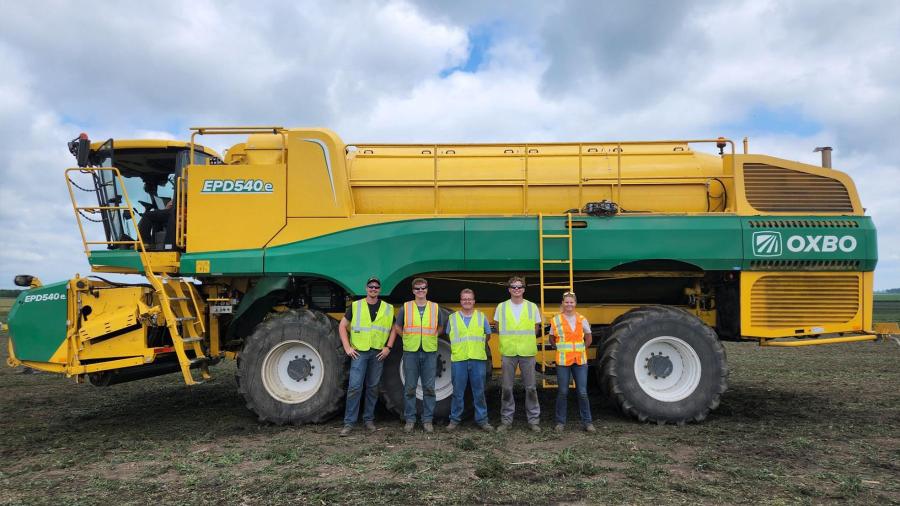 Leadership in research
Not only did Thompson have the opportunity to assist his peers in labs outside of class, he also helped lead them in one of his courses as well. Juniors and seniors in the Advanced Physics Laboratory course lead first- and second-year students in research in the prerequisite course, Introduction to Research Methods in Physics.
"The 439 seniors are expected to guide 139 students, who often have little to no physics experience prior to the prerequisite course," Thompson explained. "The topics we researched are expanded from concepts explored in our advanced coursework, including optics, quantum mechanics and fluid dynamics."
Thompson and a group of his Advanced Physics classmates led first- and second-year students in a three-month-long project, culminating in a final research paper and presentation at UW-Stout's annual Research Day held on May 3.
Their research was on two-dimensional fluid flow, which applies Bernoulli's principle on a two-dimensional sample of fluid, Thompson explained.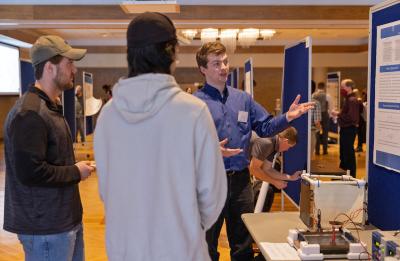 "Our project was to construct and test an experimental environment for evaluating the flow of an electrolytic fluid in the presence of magnetic fields and applied voltage," he said. "We then used videos captured from our setup to evaluate the average speed of the fluid and its related Reynolds number, a value typically used by engineers."
He thought presenting the group's research was a rewarding experience.
"It was a pleasure to share everything that we had learned with faculty, students and visitors. I loved being able to share my group's successes and struggles with other students and see what my classmates had to present," he said.
Helping his peers across campus
As a tour guide with the Admissions Office, Thompson leads multiple tours each week, introducing students and supporters to campus. Tours feature buildings central to each UW-Stout student's college experience, like the Memorial Student Center and the University Library.
Living on campus, he enjoys showing the residence halls to new students. "I enjoyed living in McCalmont Hall in the heart of campus this year," he said. "I don't have to commute, there are so many on-campus events to attend and it's accessible to MSC."
Thompson and other student tour guides offer program-specific information for students tailored to fit their anticipated majors, he explained. Most post-student-led tours are led by a program director, where students can talk more in depth about their desired major.
Mechanical engineering Program Director Vince Wheeler is happy to see Thompson take on so many roles on campus. "Nathan's enthusiasm is infectious. He pushes those around him to do better and to enjoy themselves. He was great to have in my class and is an excellent teammate when we do campus tours," he said.
Denise Goers, a first-year adviser in the Advisement Center, introduced Thompson to the dual major and set him "on track to go anywhere in mechanical sciences," he said.
"Seeing Nathan progress as a student and leader is a pleasure," Goers said. "I was happy to see him working as a tour guide. He is a great example of a successful involved student, and this makes him an excellent Stout ambassador."
Thompson is involved in UW-Stout's chapter of the American Foundry Society, an extension of the national organization, and Lutheran Campus Ministry, leading prewritten sermons with different congregations across Menomonie.
He'll serve as AFA's president this upcoming year, helping to create leadership and community casting events, inviting others to carve designs into cuttlebone and pour liquid tin to make jewelry.
"Anyone can do it," he said. "And I invite anyone to join the campus ministry. It's a great opportunity for students to explore their faith on campus."
Thompson is also a Week One Orientation leader, helping to connect new first-year students to campus as they become familiar with university policies and participate in social activities.
"It's an incredible experience helping students sign up for classes and meeting new people," he said.