Three first-year students have earned the Stout Scholars award for the fall at University of Wisconsin-Stout.
The recipients are Benjamin LeMay, Chippewa Falls Senior High School, Kalie Dahl, Holy Family Catholic High School in Victoria, Minn., and Henry LeBlanc, Kohler High School.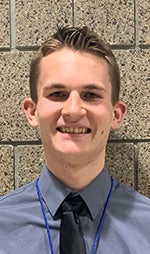 The Stout Scholars Scholarship is $5,000, renewable for up to four years, or a maximum of $20,000 for each student.
In addition to more than 400 scholarships awarded annually by Stout University Foundation, the university in 2018 announced the Blue Devil Guarantee, which provides most new first-year students with awards of $1,000 to $3,000, based on college entrance exam scores and grade-point average.
LeMay, of Eau Claire, said he chose UW-Stout because of its hands-on learning environment. "When I first visited Stout, I was impressed to see how numerous and large the labs were for students," LeMay said. "Additionally, I liked how Stout focuses on both teaching students in the classroom as well as giving them real experience in the labs."
He chose to major in mechanical engineering because he enjoys what careers it could lead him to. "Due to my lifelong hobby of building LEGOs and creating machines, I knew I should pursue some sort of engineering field," LeMay said. "In addition, I did some research on the careers I'd be interested in, designing bikes at Trek or engineering shoes at Nike, and found mechanical engineering was a degree that could position me to take up one of those careers."
LeMay is excited to attend UW-Stout and see how college differs from high school. "Receiving the scholarship will be a great help to me as a student," LeMay said. "Finances have always been a college worry of mine. The Stout Scholars scholarship will eliminate a large portion of my college expenses. With this reduced worry, I will be able to focus more on my academic and social life at Stout."
Dahl, of Cologne, Minn., said she chose to major in hotel, restaurant and tourism management in the School of Hospitality Leadership because she has a passion for serving others and thrives from social interactions.
"The hospitality industry is built around serving people and striving to create satisfaction of customers, and the contentment of others is a personal goal for me whether it be through a conversation, a meal, a stay at a hotel or planning a special event," Dahl said. "When I have a commitment, I work to make sure that the results exceed expectations. I understand that the hospitality industry is not always easy, but I chose this major because giving my time to make others' lives better is what I am passionate about."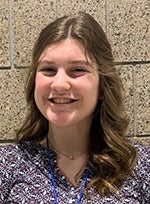 Dahl toured UW-Stout when she was a junior. Despite taking other college tours after that, her only thought was "this school does not even compare to Stout. The truth is that none of the other schools felt like a home for me, and they didn't get me excited for the next four years of my life like Stout did," Dahl added. "I am attending UW-Stout because this is one of those few special schools that not only will teach me what I need to know for my career, but it will work hard to personally set me up for success with compassion."
As a student paying for her education, the Stout Scholars Award helps Dahl accomplish the goal of attending her dream school with less financial stress. "It allows me to have a more focused effort towards academics and extracurriculars instead of longer shifts at work," Dahl said. "I will now able to spend more time getting involved, and I look forward to giving back and representing this school with the utmost admiration and dedication."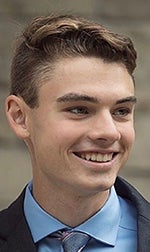 LeBlanc, of Kohler, chose his major of pre-industrial design in the School of Art and Design because he wanted to use his artistic abilities and analytical thinking to conceptualize a product.
Receiving the scholarship was surprising and humbling, LeBlanc said. "It is extremely motivating to be named a Stout Scholar, and I feel like it will make me want to push myself further as a student," LeBlanc said. "Also, the scholarship will alleviate a lot of the stress that comes with paying for an education."
He chose UW-Stout because of the positive, welcoming atmosphere and it was a place he felt comfortable. "I can already say that choosing Stout was the best decision I've ever made," LeBlanc said.
Stout Scholars must have a cumulative grade point average of 3.67 or higher and an ACT composite score of 27 or higher or an SAT of at least 1,260.
UW-Stout is Wisconsin's Polytechnic University, with a focus on applied learning, collaboration with business and industry, and career outcomes.
###
Photos
Benjamin LeMay
Kalie Dahl
Henry LeBlanc