A University of Wisconsin-Stout industrial design student painted artwork for one part of a mural project in Hudson that has been created to help mark the controversial death of George Floyd in Minneapolis.
Project 30.1, named for the distance from Hudson to the site of Floyd's death, went on display in November and will stay up through the rest of this year. The 48-foot-long mural, just north of the corner of Vine and Second streets, has 350 faces painted by community members, which represent their promise to work toward peace, justice and equality.
Along with the 350 faces, the mural has featured artwork by another eight artists, including Stephanie Howell, a senior from Roberts who graduates in December. She painted a woman with different faces emerging and light coming out of one of her eyes on a 4-by-8-foot piece of plywood.
"I was trying to convey the idea of personal evolution," Howell said. "We are seeing different things about ourselves and our community and how an issue can effect change. We have to fall apart to come together. We have to be willing to fall apart and feel it deeply and not just let it be another news story that happened in 2020."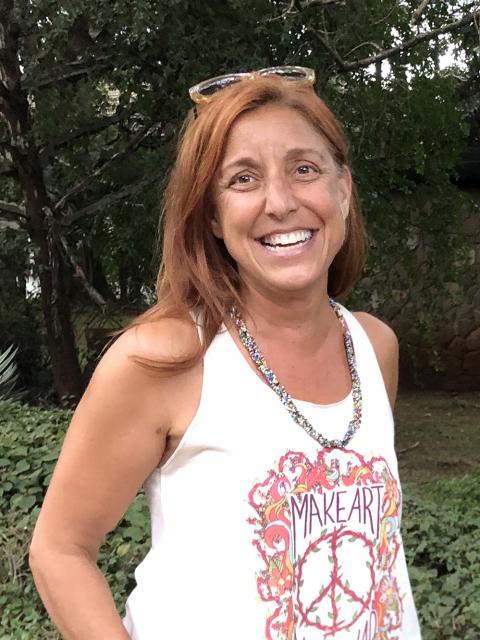 Surrounding the artwork are faces painted by community members from the Hudson area. To Howell, those faces help represent the stories of others coming together to share their feelings and sadness about Floyd's death.
Floyd, 46, died on May 25 while being arrested for allegedly using a counterfeit bill in south Minneapolis. During the arrest, Derek Chauvin, a police officer with the Minneapolis Police Department, knelt on Floyd's neck for 9 minutes and 29 seconds after Floyd was handcuffed and lying down. Chauvin is charged with second-degree unintentional murder, third-degree murder and second-degree manslaughter. His trial started on March 8. Three other officers are charged with aiding and abetting second-degree murder, and their trials are scheduled later this year.
Floyd's death sparked worldwide protests against police brutality, racism and lack of police accountability.
Community goes beyond city limits
Artist Liz Malanaphy, of Hudson, developed the idea of Project 30.1 and partnered with the Hudson Inclusion Alliance, the Phipps Center for the Arts, Sustain Hudson, and Aaron and Liesl Nelson to bridge the gap between Hudson and where Floyd died.
"I, like the whole rest of the world, was watching and trying to figure out how I could make any sort of difference in this struggle," she said, of Floyd's death. "I recognize the power of art in activism and decided that it was one way I could take action. I wanted a visual reminder of the power of this moment and this event; of this time in history that seemed to be a spark unlike any I have seen in my lifetime. I desperately wanted it to stay alive, past the news cycle, after it was no longer headlines, long into the future until we have made the necessary changes. I wanted the community to make the promise that it would not be forgotten."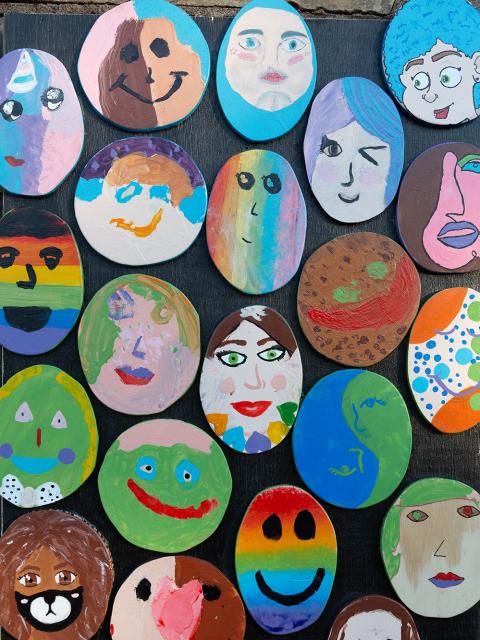 Even though Floyd's death happened just over 30 miles from Hudson and such acts don't seem possible in a smaller city like Hudson to some people, Malanaphy wanted to convey that small transgressions, and even inactions, add to injustices and racism.
"The fight for justice and to end oppression does not end at our city limits," she said. "Just because we may not see racism every day, does not mean it does not exist. Our community goes beyond our city limits. It is our region, our state, our entire world."
Being a part of change
Howell said Floyd's death saddened her because she knows the Twin Cities area well. However, she does not believe she would have stayed so connected to the story without the mural project.
"I feel a little conflicted I had to have this external thing hold me accountable, but at the same time I am very grateful I had this opportunity to have a little bit more voice on the subject," Howell said. "I know there are a lot of people who feel very passionate about it and don't get to tell anybody. It's not just me that feels accountable. Once you make a face you kind of put your signature on a group petition. I want to fight this and work with this. I want to be a part of that change.
"I think the real hope of it is that anybody can go to this mural and think about how they felt when they found out about George Floyd, and I think they are going to find a reflection about how you felt somewhere on this mural," Howell said.
Malanaphy, who also contributed art to the mural, said she was amazed, thrilled and honored by the artists who contributed.
"They are all incredibly talented and powerful people," she said. "I am so impressed with the faces created by people who chose to do so. They are a beautiful cross-section of humanity."
Other artists who contributed are:
Geno Okok, from Western Nigeria and who resides in Brooklyn Park, Minn.

Afro anime illustrator Ron Brown of Minneapolis

Liberian-American painter Lissa Karpeh, a graduate student in art therapy at Adler University and founder of Free in Color, a nonprofit organization in the Twin Cities that helps get children creating art

David Markson, who grew up in Minneapolis, painted the only panel with Floyd's face on it

Sebastian Rivera, a north Minneapolis-based artist

Thomasina Topbear, one of the founders of City Mischief Murals, an art collective in the Twin Cities comprising of Black, Indigenous and other people of color
Howell is a talented and wise artist beyond her age, Malanaphy said. "I am so proud to know her," Malanaphy said. "I have heard many people remark the piece is their favorite and very evocative."
Group workshops, traveling exhibit possible
With the mural staying up through the year, Malanaphy hopes to have group workshops as the COVID-19 pandemic subsides to allow more people to add painted faces. The mural could eventually travel to other communities with the opportunity to add even more faces, she noted.
The mural is made out of plywood and mounted on rails to allow it to be moved.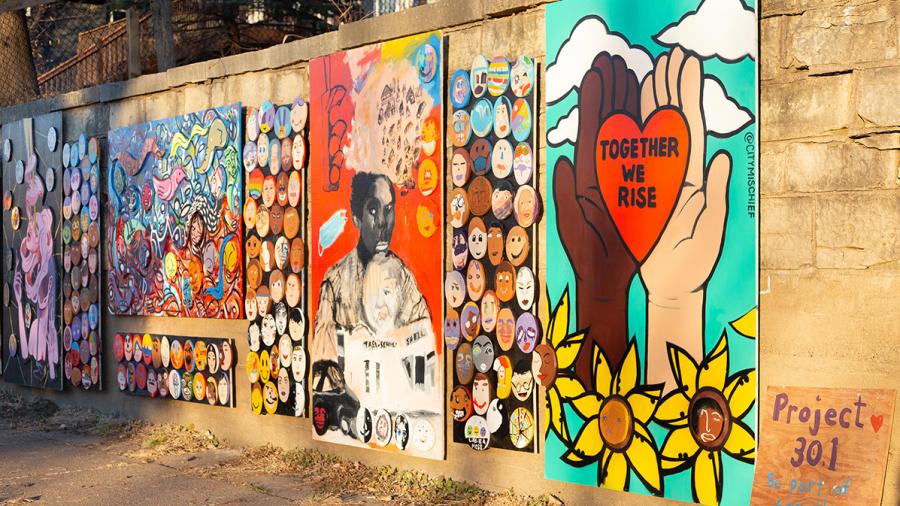 Malanaphy hopes other types of murals will be created around the country remembering Floyd and illustrating the fight needs to be taken everywhere. "I wanted all people who see the mural to be able to see themselves in it, to help create a sense of belonging, especially the children of our community," she said.
This is Howell's first artwork to appear on a public mural.  She heard about the project through a former art teacher, and Malanaphy asked Howell to be part of the project. Roberts is about a dozen miles from Hudson.
Without Malanaphy, who saw what happened in Minneapolis, and invested her time to make a difference the mural project would not have been possible, Howell said.
"If you see something and you want to talk about it and do something about it, other people probably feel the same way. This is just a good example of one person caring a lot and getting other people to care too," Howell said.
Howell picked UW-Stout because it offered an industrial design degree. "I kind of picked industrial design on a whim," she said. "It sounded interesting. I stuck with it because of the program. I got to develop skills in a lot of major art areas. I learned a lot about graphic design, digital art and there is still a big value placed on perspective and traditional art skills. There also are a lot of sculptural aspects. You are making forms as beautiful and functional as possible."