Being in the outdoors, camping and making pudgie pies over a campfire have been a part of Andrea Meisner's life since she can remember.
When the University of Wisconsin-Stout industrial design senior from New Richmond needed an idea for her industrial design class, Senior Studio 1, taught by Assistant Professor David Richter-O'Connell, to enter into the International Housewares Association's 26th annual Student Design Competition, she knew her idea would focus on camping.
Meisner redesigned an outdoor pie- or sandwich-maker, creating the Pudge Hot Sandwich Maker for Outdoor Cooking, made from aluminum with an interchangeable roasting fork for marshmallows and a pie maker that feature designs for different national parks. The Pudge also would come in a silicone-lined bag that could be unzipped to provide a cleaner area to make the pies.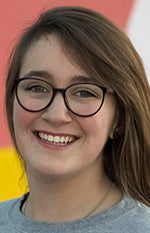 Meisner took a second place, garnering a $1,750 award.
The competition's challenge to college students was to redesign a housewares product to meet the needs of the future or to create a concept for a new product. Winning projects were selected for their innovation; understanding of production and marketing principles; and quality of entry materials.
"Old irons are super-hot, and there is a high risk you can burn yourself," Meisner said. "I wanted to bring back the nostalgia when I was younger and really good memories for me making pudgie pies. Aluminum cools quicker. There would be a timer built in and a magnet instead of a clasp. I wanted it so kids could use it without burning themselves."
The Pudge opens to the side rather than the traditional top-opening sandwich maker, which is safer, Meisner said. "You're not reaching over the fire," she noted.
Having different irons with varying designs for national parks would allow people to have one for their favorite park. A portion of the proceeds from the sales could support the national parks, Meisner said.
However, the Pudge could also be used for backyard campfires or over a grill, Meisner said.
Meisner's design along with the other winners will be showcased at the International Home and Housewares Show Saturday, March 2, through Tuesday, March 5, in Chicago. Meisner will be able to meet with some of the 60,000 industry leaders and share her design in her own show booth.
"It was a huge honor," Meisner said of her second place. "It is a phenomenal opportunity in terms of getting a job to have this under my belt."
Vicki Matranga, IHA's design programs coordinator and manager of the Student Design Competition, said students must identify user needs and opportunity spaces in the marketplace, research competitive available products, test models with users and consider production issues.
"IHA's program has become known as the gold standard for college-level competitions," Matranga said. "… it is a real-world exercise, and every entry receives feedback from two industry professionals."
Judges said Meisner had an excellent understanding of user experience and needs; innovative accessories for market positioning; and engaging graphic design, logo and promotional branding concept.
"I would love to have this idea sold," Meisner said. "As an industrial designer, you want to have your product on the market."
The winners were chosen by a 14-member jury that included design managers at consumer products companies, a major retailer, design consultants, three educators and four former winners. Judges spend hundreds of volunteer hours reviewing the submissions, which consist of written materials, sketches, engineering drawings and photos.
Jennifer Astwood, UW-Stout program director and professor of industrial design, was one of the judges. "It's inspiring to see emerging trends that the students are taking on in their design work. This new generation of students is extremely thoughtful and talented. This competition provides a platform to recognize hard-working and insightful students," she said.
Astwood said the Pudge cooker brings creative energy to the camping cooking marketplace. "This project clearly represents Andrea's strengths and insights. I hope she's able to take this project a step further and get it manufactured and sold in the marketplace," she said.
Other top finishers
The competition drew 280 entries from 45 U.S. schools and 18 other countries.
First places went to Hannah Ferrill, Purdue University; and Kevin Chiam Yong Sheng, National University of Singapore graduate. Ferrill designed a household security system that uses colored light to project alerts on the ceiling and a bed shaker to alert the hearing-impaired to intruders, fires and natural disasters. Sheng designed kitchenware for the blind that uses natural, sensory feedback and tactile cues to empower those with visual impairments during cooking.
A second place also went to Paola Gonzalez, University of Houston graduate, for Munch: A Kid's Educational Cooking Set, which teaches basic cooking skills to children. When a child selects a tool from the cutting board/storage container, its form reveals visual cues that guide the child to hold it safely and use it properly. Pictograms on the container's base teach cooking measurements and cutting techniques.
UW-Stout is Wisconsin's Polytechnic University, with a focus on applied learning, collaboration with business and industry, and career outcomes.
###
Photos
Andrea Meisner