From biomedical facilities to a sustainable dairy farm, from coffee producers to climbing mountains, 10 UW-Stout students were immersed in Costa Rican culture on an 11-day study abroad experience in January.
As part of Exploring International Business in Latin America, a heritage-based, faculty-led program organized by UW-Stout's Office of International Education, the group toured a diverse range of businesses centered around the capital city of San Jose, including Smith + Nephew, a British-owned medical device supplier; Sarchi, a famous artisan town; Café Britt, a gourmet coffee roaster and chocolate producer; a tree plantation; and a community water cooperative.
The students also explored cultural and environmental sites, like the Santa Ana community-based agricultural market and the Manuel Antonio National Park rainforest; shared time at the beach; attended a salsa dance class; and enjoyed a cooking class.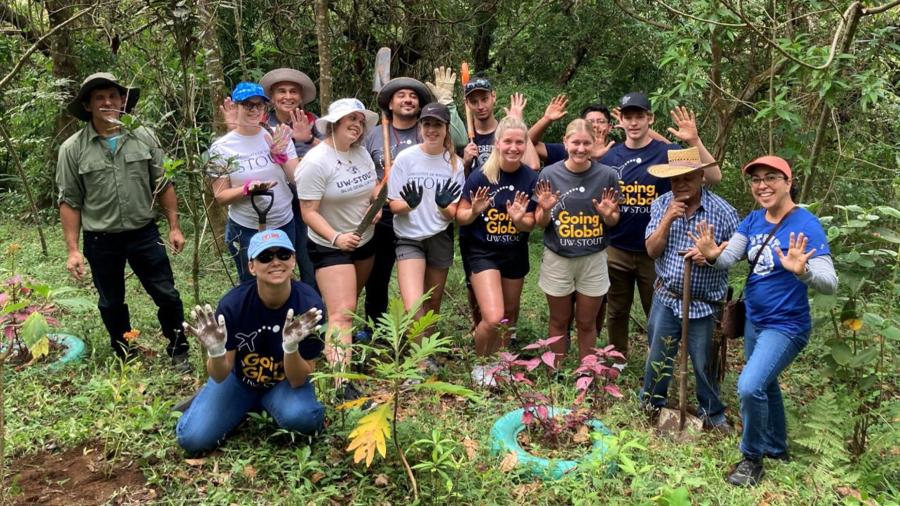 Instructional leaders were Dr. Glenn Rodríguez and UW-Stout Provost Glendalí Rodríguez, a father-daughter team whom the group came to know as "Dr. G" and Glendalí (Glenda-lee).
"The experiences ran quite the gamut. The variety of visits complemented themselves," said Dr. G, a retired dean of McKendree University in Lebanon, Ill., where he taught international business until 2012. Dr. G, of Louisville, Ky., was also the international operations director for Latin America and the Caribbean for Papa John's Pizza, helping the franchise to launch its first 82 locations in six Latin American countries.
Students in the course were:
Amanda Carey, first year in management, Almond
Brittney Dehnke, senior in business administration, Eau Claire
Sarah Durst, junior in hotel, restaurant and tourism management, Menomonie
Lauren Ek, junior in business administration, Saint Michael, Minn.
Brian Holcomb, junior in supply chain management, Chanhassen, Minn.
Orianna Horel-Borrero, sophomore in business administration, Elk Mound
Jaice Jahnke, junior in business administration, Greenville
Eduardo Placencia, first year in business administration, Minneapolis
Andrew Probelski, junior in information and communication technologies, Minneapolis
Kailey Swarts, junior in business administration, Mantorville, Minn.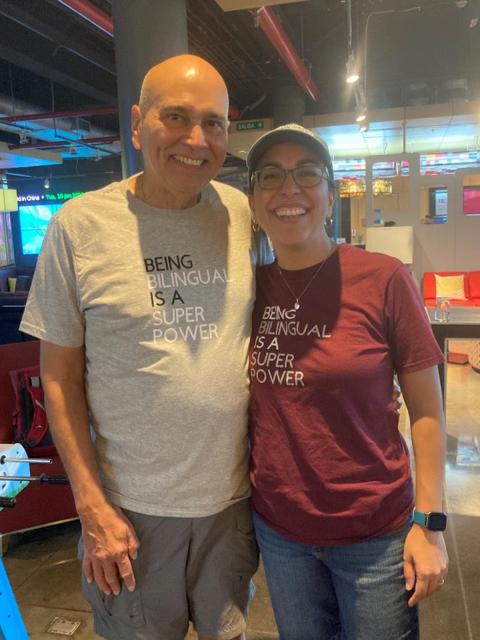 "An objective of the course was to teach students how business in Latin America varies because of the culture and political nature of these countries," Dr. G said. "We engaged on these topics with speakers explaining the history of Costa Rica and its political situations and economic focus. Labor laws are different in Latin America versus in the United States. For instance, there are no unions, but rather labor-business cooperatives, and there is a 48-hour work week."
"There is a business professionalism in everything across the country, and you can't really understand the difference in how Latin American businesses run until you're there," Glendalí added.
"The locals were all very welcoming to us and shared a wide range of business practices, missions, and visions, helping the students as they chart their career paths. Watching those 'ah-ha moments' as they think about their future careers is spectacular."
Immersion in Latin American business and culture
Beginning with Smith + Nephew, the group experienced a "clean facility" – where sterile conditions are required to produce medical technologies – during a tour by the plant manager and a laborer. "The benefits available and friendliness of the environment make it a pleasant place to work. The warm Latino culture came through," Dr. G said.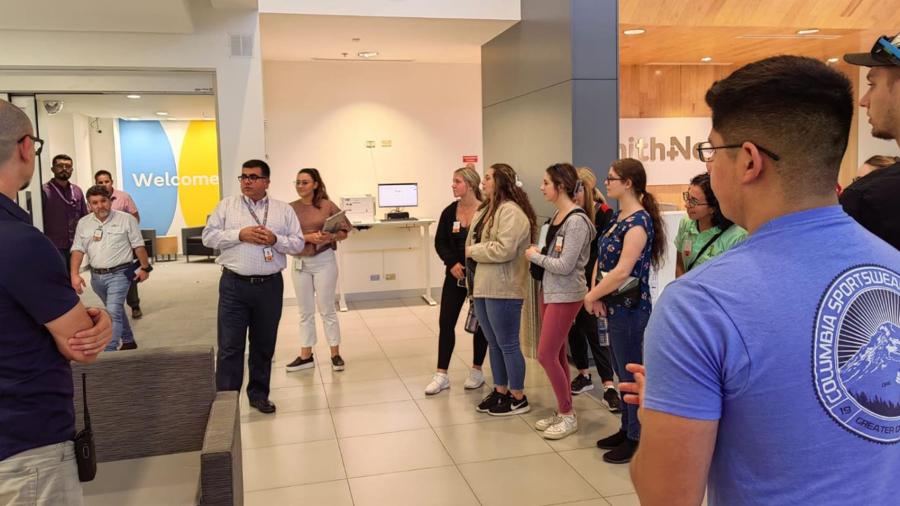 At Café Britt, Horel-Borrero's favorite business visit, the group met with the CEO. "It is very rare for the CEO of an international organization to take the time to talk to 10 college students. It was special to get the insights of growing a local business to an international brand," Dr. G added.
"Our visit to Café Britt was fun. It has a homey environment. The employees were very kind and told us lots of information," Horel-Borrero said.
Probelski's favorite trip was to a sustainable dairy farm owned by a Dos Pinos co-op member. "Following sustainable farming best practices, the owner has transformed his land from brown and desolate to green and thriving, without the use of pesticides and other chemicals," he said.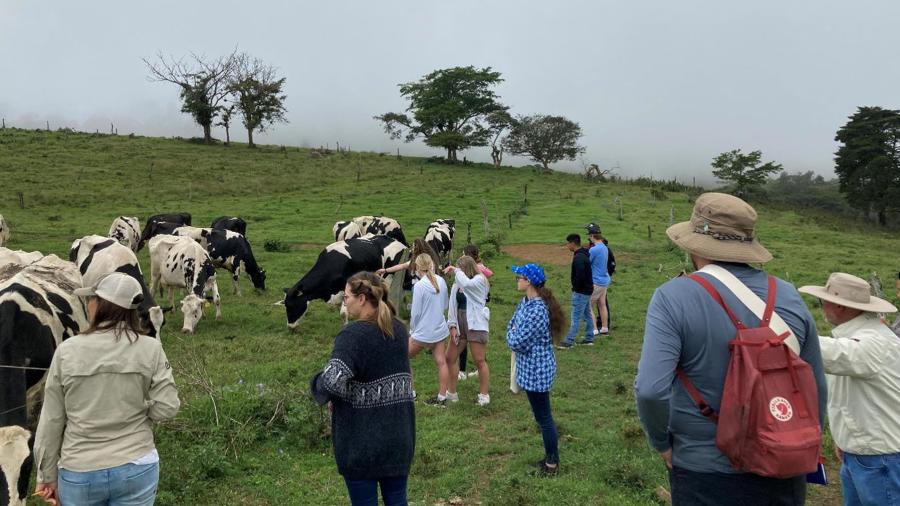 The group continued to learn about sustainable practices in Carrizal, a remote community with a natural spring water source. Community members pay to be part of the Carrizal Aqueduct Administrative Association, a local water cooperative. Water is considered a natural human resource in Costa Rica, and citizens are not charged for it, Glendalí explained.
They also volunteered at the Carrizal Tree Plantation, planting perennial flowers for butterflies and other pollinators in an effort to reforest land that was once a coffee plantation. "Costa Rica has a goal to be carbon-neutral by 2050," Glendalí said.
The Santa Ana Farmer's Market was Horel-Borrero's and Probelski's favorite cultural experience. In addition to having fresh foods, the market included social activities for people of all ages. "The streets were alive – 'Calles Vivas.' We danced, tried new fruits and juices, watched a soccer game and got to learn all about their process in building the community of Santa Ana," Horel-Borrero said. "Making experiences more personal makes a big difference to me."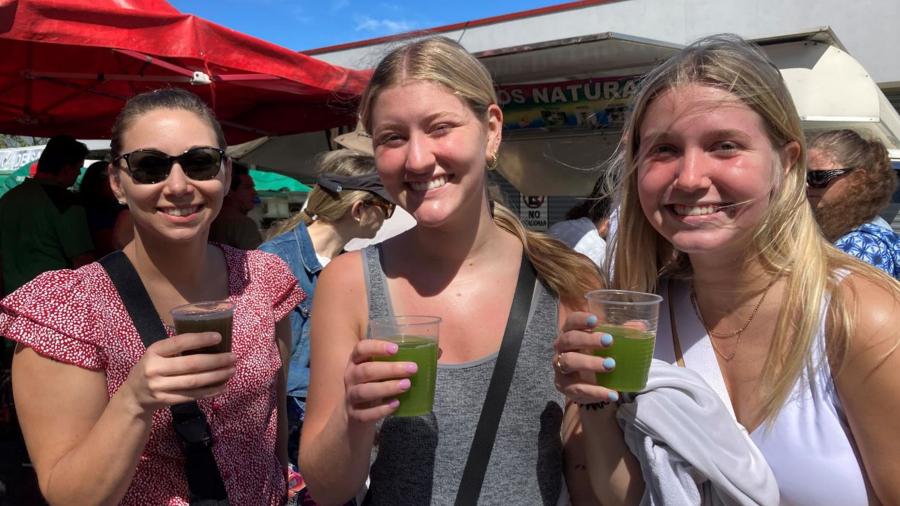 "There were so many beautiful, hand-made crafts," Probelski added. "Some things could be haggled for. My lack of fluent Spanish was a barrier, but by the end of the trip my skills and comfort conversing in a limited way surprisingly improved just by being around it all day, every day."
Practicing the polytechnic advantage abroad
UW-Stout's Office of International Education coordinates study abroad programming with Academic Programs International, which has on more than one occasion complimented OIE and UW-Stout students. "Our group was unique in a positive way," Glendalí said. "We got our hands dirty, tried new foods, interacted with the community. We're very engaged because we are a polytechnic. We're ready to make the most of every learning experience – and API recognizes that in our students."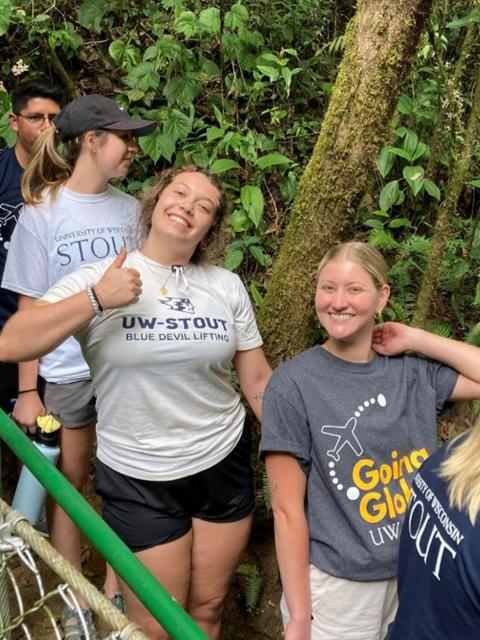 Horel-Borrero and Durst, who are minoring in Spanish, had opportunities to speak Spanish every day, furthering their polytechnic experience while abroad. They even acted as translators for their classmates at a McDonald's. "This really put my direct interpretation skills to the test, something that written classroom tests couldn't do," Durst said.
Durst chose Spanish as a minor because, after English, it is one of the most commonly spoken languages in the hospitality industry. "It's especially important to me because I want to work at Walt Disney World in Florida, where there are a lot of people whose first language is Spanish. It certainly helped me a lot when I worked there last summer," she said.
"The big thing is just putting into practice what you know in your daily actions," Horel-Borrero added. "The best way to learn another language is to completely immerse yourself in it. Practice makes perfect. You need to practice when you have the opportunity at your fingertips."
This was Dr. G's first time working with UW-Stout students. "The group gelled," he said. "To bring 10 strangers together with instructors they've never met before and build community, it was beautiful."
Foundation scholarship and federal grant make travel possible
UW-Stout's OIE received a $35,000 IDEAS grant from the U.S. Department of State's Capacity Building Program for U.S. Study Abroad for the Heritage-Based Faculty-Led study abroad programs. Additional funding from the Stout University Foundation supplemented student scholarships.
"Our heritage-based programming was intentionally designed to create a platform for engagement in a high impact experience that leads to increased retention, better academic performance and increased global competence," said Scott Pierson, OIE director. 
"With only 11% of U.S. undergraduate students participating in study abroad, and disproportionately lower underrepresented participation, the United States has much work to do to provide access and equity. This program, through a partnership with API and IDEAS, has helped us to make an immediate impact in advancement of these efforts," he added.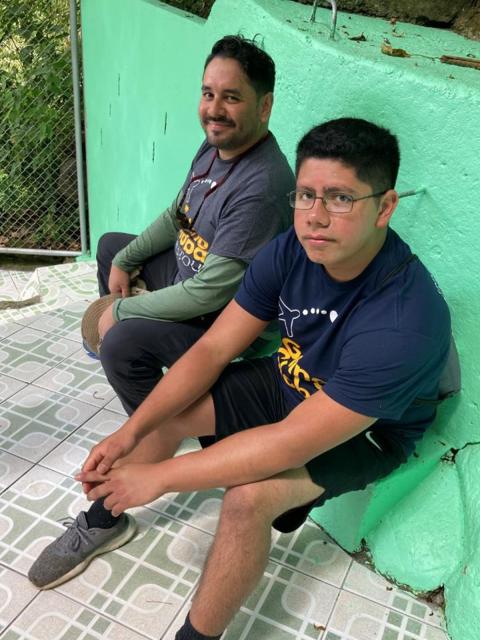 One of the initial concepts behind the program was to have faculty and staff representation from the Latino culture, Glendalí explained. "This was fundamental to the students' learning, to have personal connections to the culture within the Stout group. As a Latina, I was interested in helping implement the course, and Dr. G worked with the business department to join me," she said.
"Leading the group together was a really special experience for Dr. G and me," Glendalí said. "We've traveled together before to Puerto Rico, where we have family. But this was our first time traveling together professionally. It was a great partnership."
Horel-Borrero, Placencia and Probelski received a heritage-based scholarship toward the trip and said that without it they would not have been able to afford the experience. They recommend study abroad to all students "so they are aware of how different we are from the rest of the world," said Horel-Borrero.
As an adult learner returning to school to finish his degree, Probelski thought he would never have an opportunity to study abroad.
"Study abroad will broaden your cultural aperture, shatter expectations and stereotypes, and give you life-changing new perspectives on how others live. Ideally, you will come away from your study abroad experience a better person – I did," he said. "I am beyond grateful to UW-Stout, Academic Programs International and everyone that made this a reality for me."
The next program in the three-part series is planned for Thailand in WinTerm 2024, which will focus on Hmong culture and identity. In WinTerm 2025, a program is being planned in Africa, likely in Ghana.