UW-Stout's Jessica DuVal has been nominated for the NCAA Woman of the Year, a national-level award that honors the academic achievements, athletics excellence, community service and leadership of graduating female college athletes from all three NCAA divisions.

To be eligible, a nominee must have competed and earned a varsity letter in an NCAA-sponsored sport, completed eligibility in her primary sport and earned her undergraduate degree by summer 2020. The award is in its 30th year.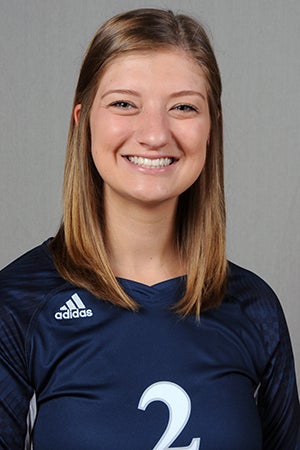 DuVal, from Logan, Iowa, and Harlan Community High School, competed on the volleyball squad and was a four-year starter at the setter position, finishing her career with 3,379 assists, fourth on the UW-Stout all-time list.
She graduated in December 2019 in applied science, with a concentration in interdisciplinary science and a minor in human physiology. She graduated summa cum laude with a 3.99 grade point average.
After graduation, DuVal began work for Kubat Custom Healthcare in Omaha, Neb., as a Compounding Pharmacy Technician making custom medications for clients.
She was UW-Stout's Co-op Student of the Year in 2018 and 2019, a four-year UW-Stout Scholar-Athlete, a four-year recipient of the WIAC Scholastic Honor Roll and received numerous academic scholarships. She was named to the 2019 WIAC Volleyball All-Sportsmanship Team.

Throughout her career at Stout, DuVal was active inside and outside the UW-Stout community. She was a four-year member of the UW-Stout Honors College, the Stout Pre-Health Society, Athletes in Action, Cru, the Student Council for Exceptional Children, volunteered with Stepping Stones of Menomonie, served on the Hunger Task Force of Milwaukee while conducting research at the Medical College of Wisconsin, assisted when Stout hosted the Wisconsin State Science Olympiad, volunteered with United Way of Dunn County, volunteered with the Stout Rehabilitation Counseling Center and volunteered as a medical assistant to Guatemala with a team from UW-Stout over winter break in 2019. 

Received UW-Stout Humanitarian Award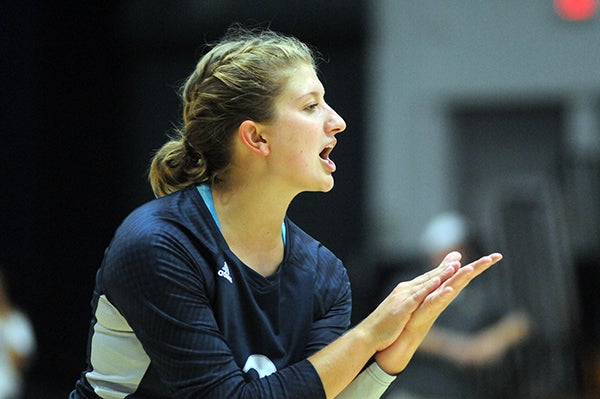 DuVal was constantly learning, then taking that knowledge and sharing it with others.

"The students that I tutored in college and at the state Science Olympiad taught me it's OK to be frustrated and ask for help," DuVal said. "My professors taught me the value of acknowledging and growing from mistakes.
"While conducting research at the Medical College of Wisconsin, I witnessed everyday marvels of this world in awe and wonder. By serving as a volunteer medical assistant in Guatemala, I learned no language barrier hinders me from seeing other's pain and I have the privilege and obligation to serve the less fortunate. The strained smiles of a starving village child sobered me to this obligation.

"I have learned through volunteering at homeless shelters, food banks and Relay for Life events that opportunities to spread blessings exist in simple gestures like a casserole or a lap around the track."

DuVal received the UW-Stout WMG Humanitarian Award after her junior season. The award calls attention to and recognizes the student athletes who put sports into proper perspective, who encompass teamwork, campus and community in their everyday lives and put others ahead of themselves.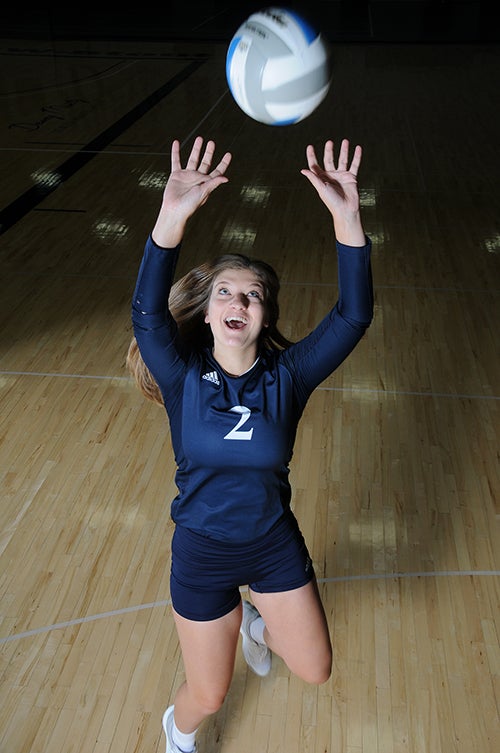 "While I did not possess the rawest form of natural athleticism — I couldn't jump the highest or hit the hardest — I found other ways of supporting my team," DuVal said. "I could jump into loving others well and hit them with the most sincere form of compassion."

"I continue to learn," DuVal continued. "Every day presents an opportunity to grow as a scholar, an athlete and a leader. After graduating, I have been blessed to obtain a job in the medical field working through the COVID-19 pandemic. While it has not been easy, it has allowed me to apply these lessons in the real world."

"Jessica was one of the most selfless, down to earth athletes I have ever coached," said Mandy Trautmann, the UW-Stout volleyball coach.
Trautmann coached DuVal for three years.

"Jessica was the definition of grit, teamwork and competitiveness, all in one person," Trautmann said. "She was the girl that if the other side had a consequence, she would join in, because she had the mindset that we are stronger together. The Blue Devil family will miss her this next year on and off the court." 

One of six WIAC nominees
DuVal was one of six nominees from the Wisconsin Intercollegiate Athletic Conference. NCAA member schools have nominated a record 605 female college athletes for the award.

The nominees represent all three NCAA divisions, including 259 nominees from Division I, 126 from Division II and 220 from Division III. The Woman of the Year selection committee will choose the Top 30 honorees — 10 from each division.

From the Top 30, the Woman of the Year selection committee will determine the top three honorees in each division and announce nine finalists. The NCAA Committee on Women's Athletics then will choose the 2020 NCAA Woman of the Year, who will be named this fall.
###
Photos
Jessica DuVal
DuVal celebrates during a UW-Stout volleyball game.
DuVal was a four-year starter at the setter position for the Blue Devils.