The leading club management organization in the United States is partnering with the School of Hospitality Leadership at UW-Stout to help educate the next generation of industry leaders.
The Club Management Association of America, which has more than 6,800 members representing 2,500 golf, military, yacht, athletic and other clubs, is working on initiatives that support the education and career readiness for students in the hotel, restaurant and tourism management undergraduate program.
"We are doing more than just inviting guest speakers. We're looking at how we create a 360-degree type of integration with our local CMAA chapters for our students structured across classes and semesters," said Professor Eric Brey, hospitality school director.
Working closely with the Upper Midwest Chapter and the Wisconsin Badger Chapter of CMAA, the integration effort is part of classroom curriculum and with the university's co-op and internship program.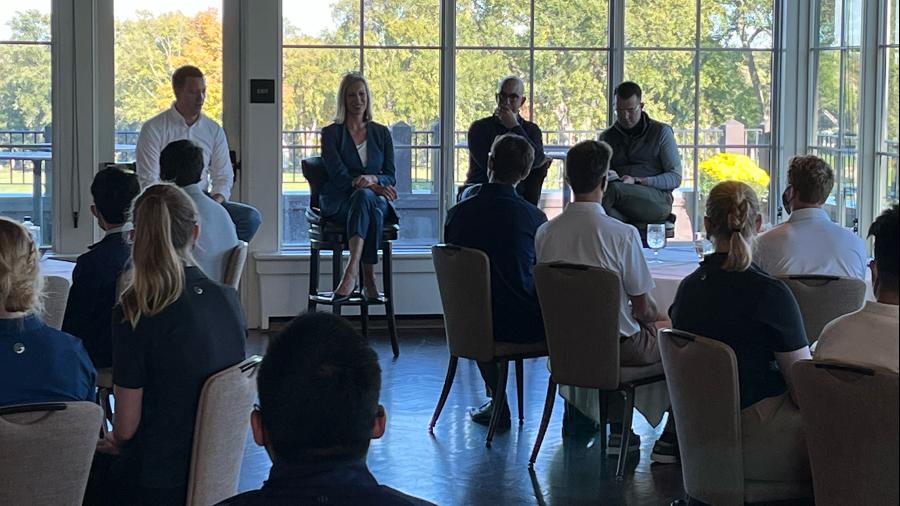 The partnership began in fall 2021 when the Upper Midwest Chapter provided $20,000 in support toward involvement in the Club Management class taught by Brey. CMAA and UW-Stout coordinated two site visits, at historic Interlachen Country Club in Edina, Minn., and at Oak Ridge Country Club in Hopkins, Minn.
The Upper Midwest Chapter flew in a panel of experts for each visit to meet and educate students, including some of the nation's leading club managers, Brey said. Meals were included, and the chapter purchased clothing for students to meet the clubs' dress code requirements.
Professionals were from clubs in Philadelphia, Chicago, Wilmington, Del., Naples, Fla., Scottsdale, Ariz., and Minneapolis.
"People create the best club experiences, and it is important we invest time, energy and resources to develop the next generation of hospitality leaders," said Joel Livingood, CMAA-Upper Midwest Chapter president and GM/CEO of Interlachen Country Club; and Carrie Eyler, CMAA-Upper Midwest Chapter education chair and assistant general management at  Interlachen.
"Students are that next generation, and we are fortunate to have the University of Wisconsin – Stout in our backyard. We are looking forward to continuing our momentum from 2021 to make a lasting impact on our industry for years to come," Livingood and Eyler said.
Experts from multiple consultancy groups and top-tier private clubs were brought in to lecture, and Jason Koenigsfeld, senior vice president of Professional Development from CMAA, flew in to administer a personality test to help students understand their tendencies when under pressure.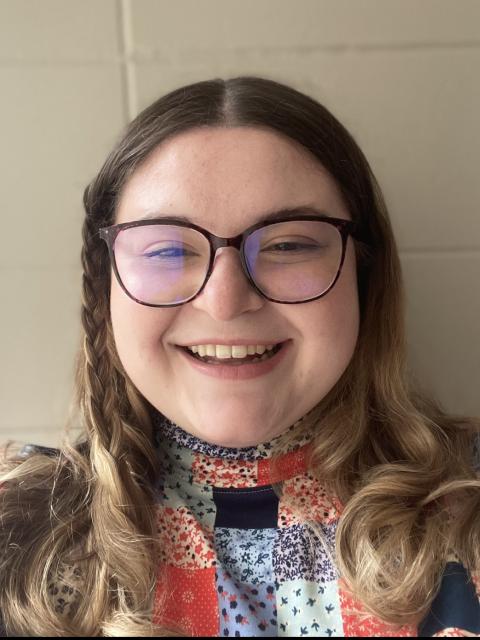 Students get 'extra boost of confidence'
The course gave Jenna Auton a new perspective on her career options. Auton, of Hartland, Wis., a senior majoring in HRTM, accepted a full-time position upon graduation in May at Destination Kohler in Kohler. She will start in the food and beverage management development program.
"Club Management was a great introduction for me into the club industry. Prior to this course, I had no thought about that being a career for me," Auton said.
"Being in CMAA in addition to this course provided me with the extra boost of confidence that I needed to know. Anyone can excel in this industry if they have the passion in their heart to try," she said.
The interactions with CMAA members helped her become more confident being around professionals in the field, network with them and learn how to ask the right questions, she said.
Several other hospitality students valued the experience:
Claire Henneman, a junior from Bloomer, Wis.: "I have never seen an organization as passionate about getting students into the hospitality industry as CMAA. This experience prepared me for my career in clubs by expanding my understanding of all aspects and getting to hear from the best of the industry."

Tyson Rinaldi, a junior from Prior Lake, Minn., appreciated the keynote speakers and how they discussed moving beyond the pandemic within the industry: "Taking this class helped better prepare me for my professional career path and how to use managerial skills that are being used in the club industry."

Ashley Yoshino, a sophomore from Fall Creek, Wis., said, "

The uniforms, guest speakers and networking opportunities supplied by CMAA showed the students that the club industry is both ready and willing to support us. Thanks to CMAA, I can take steps toward my future career in clubs without worry."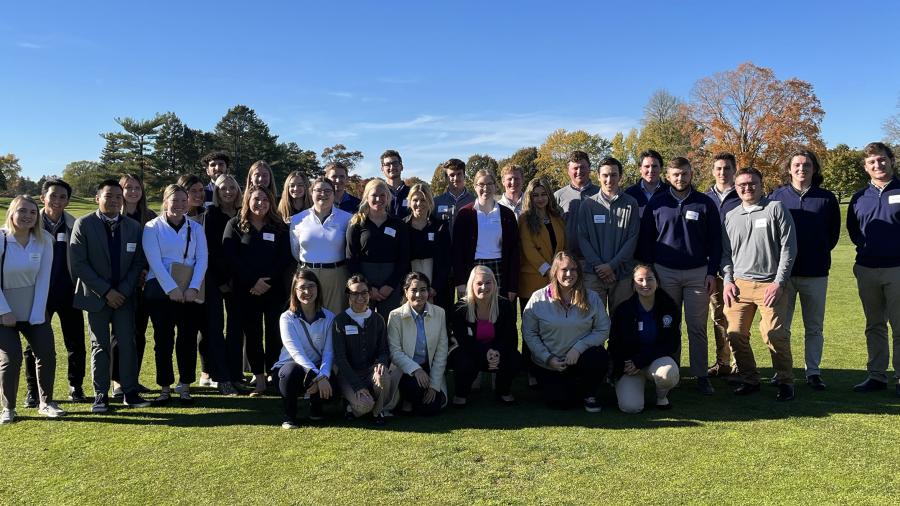 The curriculum integration process will be repeated in fall 2022 when the class is held again. Club visits are planned at Interlachen and the Minikahda Club in Minneapolis.
This spring, Brey and CMAA are working to enhance a tiered system for industry internships to help students understand their options and position expectations. An internship or co-op is required as part of the HRTM program through UW-Stout's Career Services.
Brey said the initiatives have "created an incredible amount of energy in our students and interest on the national stage. The support from the Upper Midwest Chapter has created an opportunity for our students to experience what the hospitality industry is truly about, and the excitement shows in the number of students choosing clubs as a career path"
He hopes to see CMAA involvement in other courses, stronger connections to the CMAA student chapter and Career Conferences on campus, additional scholarship opportunities and mentoring with the Wisconsin Badger Chapter.
The UW-Stout CMAA student chapter has won national awards, and students attend the annual conference.
The School of Hospitality Leadership has been educating industry leaders for more than 50 years and is ranked No. 11 in the world by CEOWorld magazine of New York.
In 2021, UW-Stout was named one of the top 30 universities in the nation for its connections to business and industry.
###