The Menard Center for the Study of Institutions and Innovation has announced the winners of its inaugural Student Civil Liberty Contest.
MCSII called for University of Wisconsin-Stout students to submit original essays, poetry, photos, artwork and videos to help educate others about civil liberties.
Messages and liberties discussed by the 15 contestants covered topics including the freedoms of speech, press, association and religion, the right to privacy, due process rights and economic freedom.
The winners of the inaugural contest are: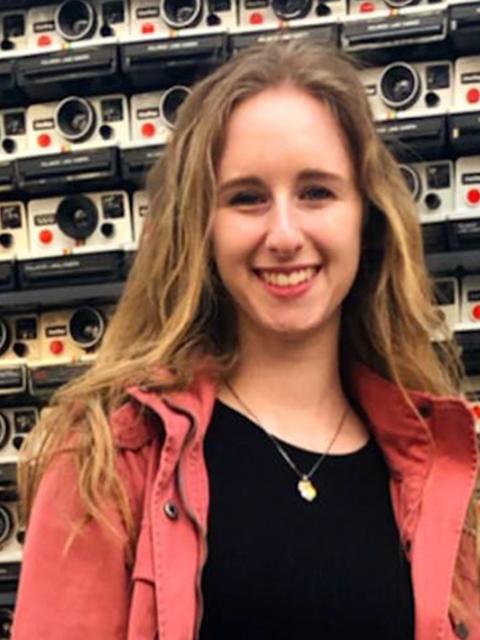 Digital versions of the winning entries are posted on the MCSII website and the original work is displayed in the MCSII office in Bowman Hall.
MCSII Director Tim Shiell, professor of philosophy and free speech expert, hopes the contest stimulates students and viewers to further thought and study about civil liberties, which he calls "the bedrock of democracy."
Photos of downtown Kenosha
On Aug. 23, Kenosha police officer Rusten Sheskey shot and paralyzed Jacob Blake in front of Blake's four children. During a summer of several high-profile shootings by white officers of black men and women, peaceful protests were followed by three nights of riots and civil unrest in Kenosha.
Elizabeth Kelly, a junior in industrial design, minoring in sustainability, grew up in Kenosha. While visiting family after the riots, she walked among the wreckage of downtown. As she passed charred vehicles and crumbling buildings, Kelly snapped photo after photo.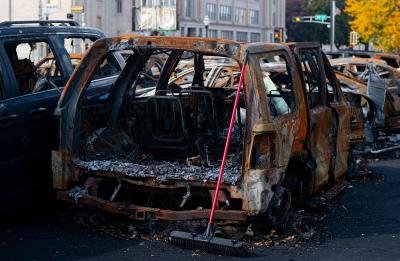 "Seeing all the destruction of the burnt-down car lots, several buildings and all the graffiti messages gave me mixed emotions on the events that occurred," she said. "It made me realize this can happen anywhere, affecting people and their community. It was very real and changed their lives forever."
The contest helped Kelly reflect on what liberty means to her. In her artist's statement, she wrote, "Liberty is a human birthright. The freedom in which one chooses to do as one wills. Nothing should take away this right."
Kenosha is very dear to Kelly. "Although these pictures show how devastating it really was, I saw signs of hope with beautiful messages painted on the boarded-up businesses. Kenosha is strong, and with perseverance, they will recover," she said.
MCSII is planning a second civil liberties contest for spring 2021.