Last June, UW-Stout's Emerging Center for Career and Technical Education Excellence held its fifth annual CTE Summit. 
The summit, held virtually, provided career and technical educators with valuable information about recruitment and retention as the nation faces a shortage of teachers.
David DeGuire, director of teacher education, professional development and licensing at the Wisconsin Department of Public Instruction, noted that 40% of teachers leave the profession in their first five years. At the summit, he estimated that one in five were not planning to return to teaching last fall because of COVID-19.
"The demand for teachers continues to outpace the number of graduates each year," said Debbie Stanislawski, professor and program director of marketing and business education. "School districts continue to share that they are moving the hiring process earlier in the school year to be able to beat out their competition for getting the best teachers."
The summit included a panel of teachers who discussed what recruitment methods work best for them and shared their experiences as CTE teachers.
Teachers need support
Kathleen Thorn, a business education teacher at Colfax Middle and High School, was a member of the panel.
Thorn is in her second year of teaching. She graduated from UW-Stout in 2016 with her degree in business administration and earned her second bachelor's in marketing and business education in 2019.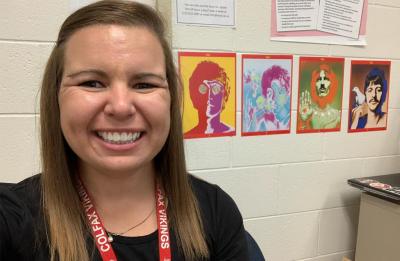 Her greatest joy is being in the classroom. "I love being goofy with my students and talking with them about what has been going on in their world, asking them questions about themselves and their interests. One of my greatest strengths is creating connections with students."
But for many, the joy of teaching is not enough. Moving from her college career to her teaching career, Thorn, like everyone, still needs a support system. As schools across the country build new teacher recruitment methods and strengthen retention practices, Thorn feels having supportive administration can make all the difference.
She is thankful for the administrative staff at Colfax, including Principal John Dachel, who gives "feedback on observations, is supportive when I am unsure of disciplinary actions and has even encouraged staff to take mental health days if they need it."
Thorn began her MBE at UW-Stout in the online program. So when she needed to adapt her teaching to COVID-19, creating an online model in spring 2020 and a hybrid model last fall, she emulated her professors' approach.
Colfax administration held professional development opportunities for teachers to make the necessary possible changes to adapt their classrooms to COVID-19, including training on Google Classroom features and capabilities; and implementing provided cameras and headsets to better engage virtual students at home, Thorn said.
The Colfax district also has a mentor program to help new teachers connect with co-workers.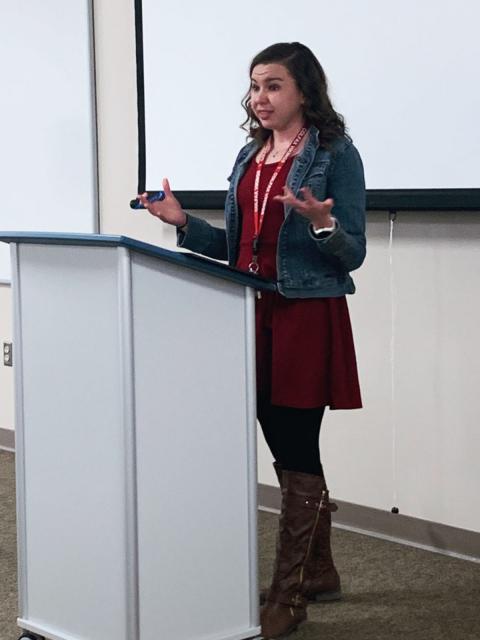 "The mentorship program at Colfax is wonderful. My mentor Jennifer Steinke has been incredibly supportive, both professionally and personally. Having good relationships with co-workers is all the more reason for teachers to stay at their schools," Thorn said.
She enjoys working with teaching assistants and student teachers to show her students that marketing and business education might be a great career to pursue. Last fall, Thorn worked with a prestudent teacher from UW-Stout's MBE program.
"It's fun to see the next generation of teachers develop their skills in the classroom," Thorn said.
Stanislawski believes in the importance of recruiting young people into the field of teaching. "We need to continue to prepare entrepreneurial marketing and business teachers to meet the needs of our communities, schools and learners," she said, adding, "UW-Stout prepares graduates who can plan, implement and evaluate instruction with their learners at the heart of their decisions."
Emerging Center for CTE Excellence