Fitting in and making friends on a campus with thousands of students can be a challenging aspect of going to college.
It's even harder for transfer students, who miss out on traditional first-year experiences, such as bonding with roommates and getting involved from the get-go in clubs and organizations.
"Being in a new environment, surrounded by new faces can be quite intimidating," said Christopher Jones.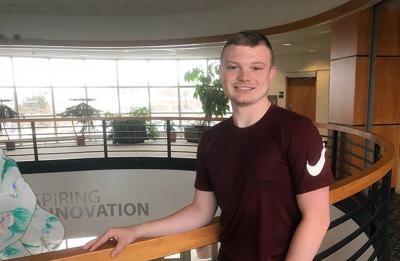 Jones came to the University of Wisconsin-Stout in fall 2018 as a second-semester sophomore and didn't know anyone. That all changed quickly for the Racine native, however, when he connected with the campus chapter of Tau Sigma, a national honor society for transfer students.
Soon, Jones had a band of friends who were in a similar situation. "I've made a lot of good friends through Tau Sigma," he said. "I was able to see that there were all sorts of driven transfer students at Stout. From there, a clique of individuals from all different corners formed, and I felt like I was a part of something big."
He has Tau Sigma to thank for something else. Recently, he received a $500 national scholarship from the organization. He is one of 68 students across the U.S. to be honored for the 2019-20 academic year.
The scholarship amount, he said, is equivalent to how much he would earn working a campus job for a semester. He is already working two jobs on campus, as a research assistant in the social science department and as an assistant in the Writing Center for students in Harvey Hall.
"It means a lot because it saves me a lot of time. Time is one of the most precious resources we have," he said. "I see all the sacrifices my parents make for me so I can go to college. This is a great way to give back to them."
Applicants were evaluated on academic achievement, community involvement, and service to their university and to their Tau Sigma chapter, of which Jones is treasurer.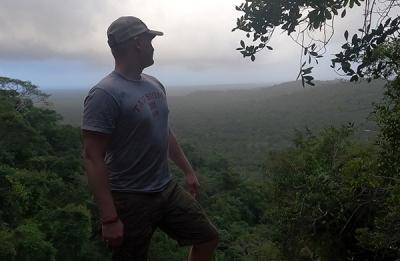 Jones is pursuing two degrees, in business administration and in environmental science.
He has studied abroad in each of them. In May 2019, he went with a business class to Sweden with Assistant Professor Mary Spaeth to study business incubation and the importance of innovation to a region's successful economic development. In January, he went to Belize with Professor Michael Bessert for a biology class, Natural History of the Neotropics.
Study abroad opportunities are coordinated through UW-Stout's Office of International Education.
Despite needing 30 to 40 extra class credits —  an academic year or more  — to finish the two majors, Jones still expects to graduate in four years total in May 2021. Taking winter, summer and overload classes has helped him stay on track.
He said he loves UW-Stout and the "tight-knit" aspect of the university, as well as the west-central Wisconsin area.
Down the road, he would like to work on a master's degree in statistics or business administration and have a career in project management at a research facility.
Learn more here about transferring to UW-Stout, which has 146 articulation agreements with schools in Wisconsin, Minnesota and Illinois, with more being developed.