UW-Stout student Hunter Kuester is an advocate for the blind at the university, state and national levels and was recently appointed to the UW System President's Advisory Committee on Disability Issues.
Kuester, of Watertown, believes strongly in educating others and thinks the best way to be an ally and advocate for people with disabilities is to "really listen to their experiences and understand their differences."
As a member of PACDI, Kuester, who is blind, helps to provide information and recommendations relating to individuals with disabilities to UW System President Jay Rothman. The committee is charged with making recommendations in three major areas:
Policy and guideline implementation

Procedures for periodic reporting of data regarding disabilities

Disability related issues raised by UW System Administration, universities or units.
PACDI promotes issues to provide a supportive environment for students with disabilities, most recently promoting access to assistive technology and the implementation of a universal design.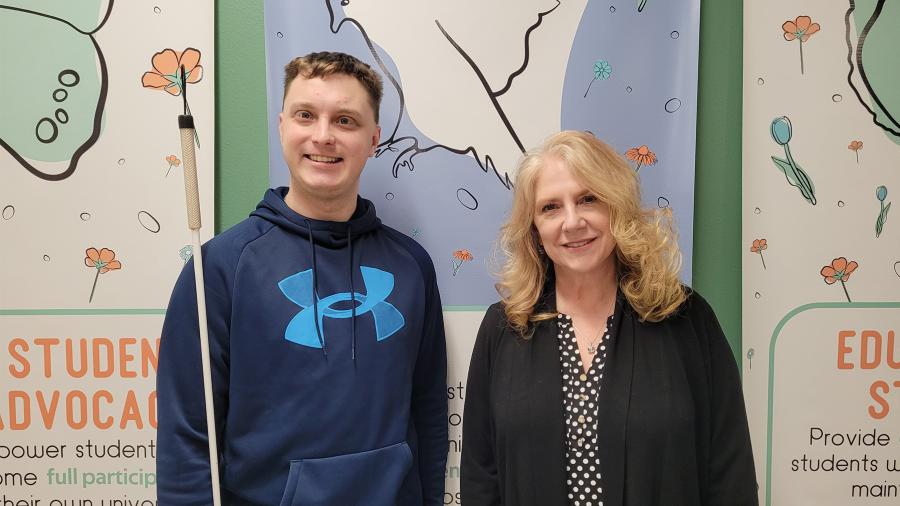 "My aim is to help the UW System understand fully what accessibility means and to make renovation recommendations, taking disability and accessibility into account," said Kuester, who is a double major in hotel, restaurant and tourism management; and real estate property management.
Ann Murphy, director of UW-Stout's Disability Services, is a member of PACDI. One of this year's initiatives is to roll out the Digital Maturity Assessment Survey, as a part of UW System's commitment to inclusion, equity and compliance.
"Each UW university will complete the survey – a self-study, looking into how they're supporting digital accessibility and where they need to grow," she explained, giving students access to JAWS screen readers and Braille displays for websites as examples.
Murphy, who recommended Kuester to the committee, said "PACDI was looking for a student candidate who has lived experience with one or more disabilities and/or who is a strong ally for accessibility.
"Hunter is a clear leader and is very involved with leadership opportunities and organizations. He has a lot to contribute and is very effective in using his voice to advocate for people who are blind and who have disabilities. He's a big picture thinker and an impressive student," she said.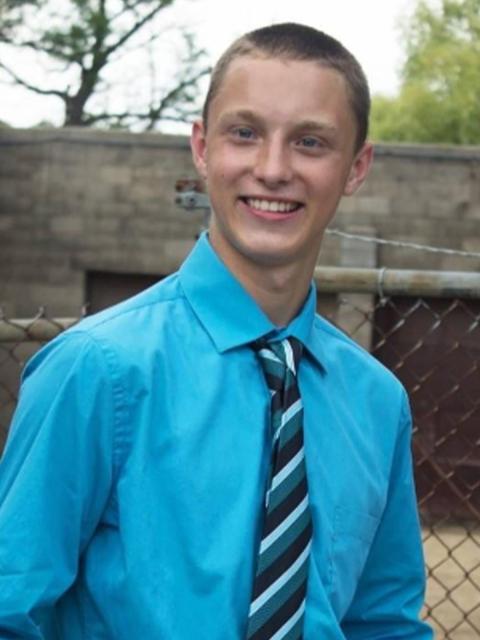 PACDI also likes student representatives to have the endorsement of their student senate, which Murphy helped facilitate with the Stout Student Association. SSA represents and advocates for students with disabilities on campus to foster an inclusive environment for all students.
Kuester's endorsement then went to John Achter, director of Student Behavioral Health with the UW System and liaison for PACDI, for consideration before being appointed by Rothman. A similar process was followed for another student representative, who is from UW-Whitewater, Achter said.
"Hunter is a dedicated student leader, especially on matters surrounding accessibility and accommodation," said SSA President Cody Gentz. "His dedication to advocacy and leadership experience made him a natural choice to be the Stout Student Association's nominee. I was excited to see him officially appointed. I know he has been, and will continue to be, a vital student voice in this space."
Kuester's is a two-year term, which started on July 1, 2022, and will run through June 30, 2024. He plans to graduate in December 2024 or May 2025. 
University and national roles
Kuester is a special projects coordinator with UW-Stout's Disability Services, which supports about 700 students each year. The office initially connects with students at First-Year Orientation and Registration, when students can identify if they have a need. Faculty can also make a referral for students needing accommodations.
As a student staff member, Kuester's role is to bring forward different accessibility issues he encounters around campus.
"Hunter helps to let us know what we can do to make navigating campus easier," Murphy said.
When Kuester transferred from Minneapolis Community and Technical College to UW-Stout, he lived in North Hall, which was recently remodeled. "But even after the new renovation, there were no Braille signs," he said. "Nothing was labeled – not the rooms, bathrooms or facilities."
Heritage Hall, where most of his classes are held, had no Braille signs either. Heritage was built in the 1970s, pre-Americans with Disabilities Act, which passed into law in 1990. Heritage Hall is scheduled for major renovation, expected to begin as early as fall 2025.
Facilities Management has worked with Kuester and Disability Services to make improvements on campus. Justin Utpadel, senior facilities officer, noted Kuester's influence on the corrected signage design for North Hall, which will influence the South Hall signage, currently in the final approval process as the building is being renovated. Heritage Hall plans are in the predesign stage, but plans include a space for the Disability Services office, which will relocate from its current space in the University Library.
Kuester also found that the Braille signs in Memorial Student Center and Merle M. Price Commons were often incorrect. He and a co-worker collaborated with Malinda Hebert, Student Centers associate director, to correct signage. They used a Braille label-maker to add missing signs, correct signs and add the function of certain rooms, such as meeting rooms. "I very much appreciated his efforts," Hebert said.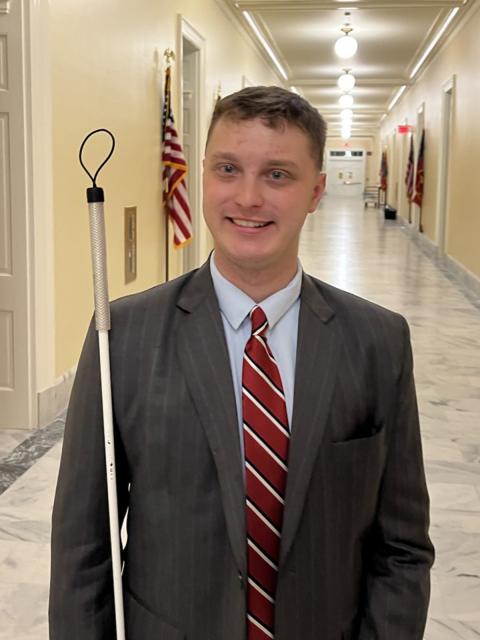 As the former senator of Accessibility and Accommodation with the Stout Student Association, Kuester is working with Facilities Management to install additional exterior lighting on campus, specifically around the residence halls and popular campus areas.
Members of the SSA collected data and student surveys about campus safety, including lighting, cameras and traffic control, and have asked for lighting improvements to be included in the South Hall renovation project, said Fiona Lindsay, SSA vice president.
The Campus Exteriors and Development Committee is holding its annual campus night walk on Tuesday, March 21, to assess the grounds and exterior spaces for aesthetics, lighting, visibility and overall safety.
Kuester is working on an advocacy presentation for students with disabilities. "I want to help them gain confidence and learn to advocate for themselves," he said. "I can be a voice for students now and for students after me, making campus more accessible for them."
Kuester is also involved with the National Federation of the Blind and recently attended the annual Washington Seminar, in Washington D.C. During the yearly event, the federation meets with representatives to help pass legislation for accessibility and equal opportunities for the blind. One of this year's priorities was website accessibility, Kuester said.
A passion for hospitality
As a double major in hotel, restaurant and tourism management; and real estate property management, Kuester has a passion for hospitality.
Last summer, he was a premium services management intern with the Milwaukee Brewers. Employed through Delaware North, Kuester worked in the food and beverage services during game day and nongame day operations at the ballpark.
"It was a good experience, dipping my toes into hospitality," he said.
Kuester plans one day to open his own distillery and appreciates all of the different types of spirits. "It's an art form – a very long process. I like to put a smile on people's faces," he said.