This summer, middle and high school students can discover exciting career paths in science, technology, engineering, art and design, and improve their athletic skills at a variety of camps led by UW-Stout faculty and coaches.
The opportunities include Summer STEAM, Junior STEAM and a new STEM-X camp and several sports and recreation camps.
STEM Experience (STEM-X)
STEM-X helps underrepresented and underserved high school students prepare for and succeed in their college careers. It is a free overnight camp, running Sunday, June 25, to Wednesday, June 28, providing hands-on experiences in science, technology, engineering and mathematics.
Campers attend workshops to help develop their study and leadership skills and learn about campus resources, such as academic Advisement, Career Services and Financial Aid.
STEM-X sponsors and partners are 3M, and UW-Stout's Multicultural Student Services, Educational Pathways and Continuing Education and Conferences.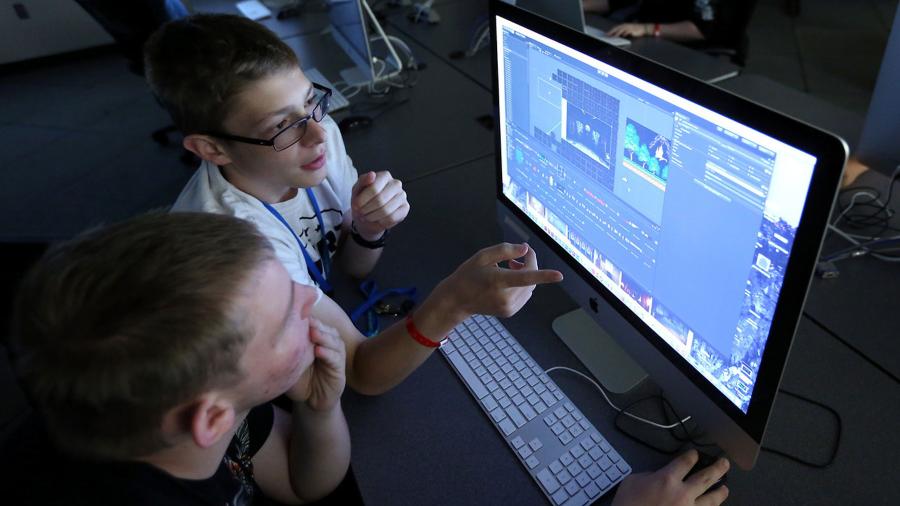 Junior STEAM Experience
Junior STEAM Experience, for students entering grades six to eight, will run Sunday, June 18, to Thursday, June 22. Hands-on activities will be led by faculty, teaching assistants and camp counselors.
They'll rotate through nine sessions: 3D printing; engineering and technology; industrial design; interior design; chain making; genetics and DNA analysis; photo and video; unhackable quantum codes; and video production.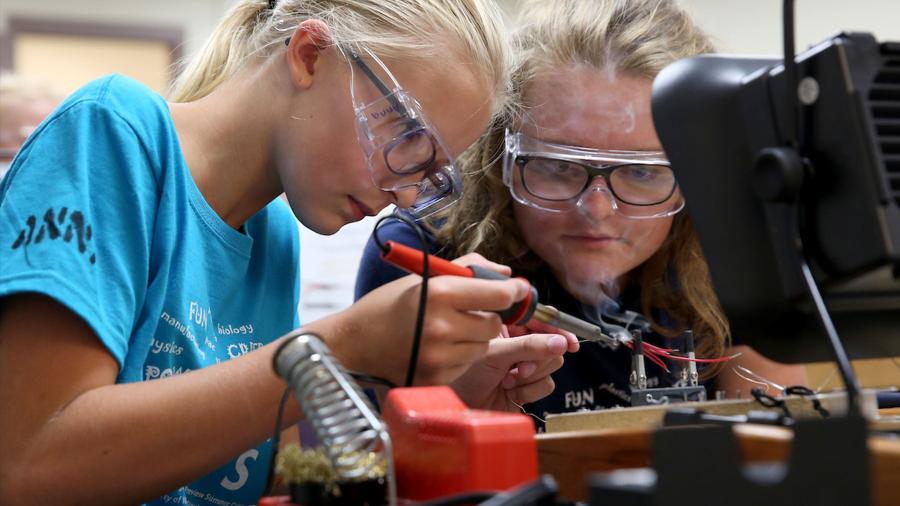 Summer STEAM Experience
Summer STEAM Experience is doubling its offerings this year for high school students, with 11 unique tracks available over two weeks: Sunday, June 11, to Thursday, June 15; and Sunday, July 9, to Thursday, July 13.
Campers may register for one or both weeks. Camp activities and a college student panel will provide experiences that highlight the value of creative and critical thinking. About 120 students are anticipated for both weeks.
Registration for the STEAM experiences will open Saturday, March 11. Cost is $475 for overnight campers, who'll stay in the residence halls; and $325 for day campers.
Week One (Sunday, June 11—Thursday, June 15)
Video Production, with Lecturer Jonny Wheeler: Campers

will learn how to tell a story from script writing to planning shots to capturing professional-quality video. At the end of the week, students will screen their short films on the big screen in the university's Harvey Hall Theatre.

3D Animation, with Senior Lecturer Jesse Woodward: Campers will use the same software used by Disney Animation Studios, working together to produce an animated short film that will be featured online.
Web Design, with Assistant Professor Kris Isaacson: Campers will learn about design and layout best practices for websites, brainstorming ideas for their own interactive website project, while learning HTML and CSS — the building blocks of web development.
Video Game Design, with Lecturer Karl Koehle: Campers will learn the end-to-end process of creating video games and the many skills needed to bring a game to life, from sketching levels and characters to animation, programming logic and sound effects. At the end of the week, they will play-test a game of their own creation.
Explore 3D Printing and More, with professors Wei Zheng and Alex Jordan: Campers will learn

 to design and manufacture plastic and wood products and explore the high-demand plastics engineering profession

.

Digital Storytelling, with Associate Professor Mitch Ogden: Digital storytelling blends creative writing, story exploration and media production. Campers will generate story ideas and construct digital stories, like web-based interactive stories (choose-your-own-adventure), gamification of stories, podcasts or audiobooks and multimedia stories.
"Web design is for people who are creative, like puzzles, problem-solving and technology. It combines designing layouts, playing with colors and the logic of coding," Isaacson said. "If you're interested in computer programming, this is a friendly way to get started. Each student will leave camp with a working multi-page website that they design and build from scratch. Students will learn how to become creators of content on the web instead of just consuming what others have done."
Week Two (Sunday, July 9—Thursday, July 13)
Industrial Design/Product Design, with Professor Jennifer Astwood: Campers will explore the process of developing and designing a light, from sketching, to learning Adobe Illustrator, to prototyping using a laser cutter.
Enameling on Metal: Grit, Gloss and Finish, with Lecturer Rose Schlemmer: Campers will learn the basics of how to enamel on metal using techniques such as sgraffito, stencils, image decals, and champlevé and will

create an artwork of their own.

Furniture Design, with Lecturer Cassie Savela: Campers will learn the design process and 3D modeling software to create a set of 2D and 3D technical drawings of their very own custom table, chair or bench. Drawings will be collected into a personalized 10- to 15-page process book to present at the Camper Showcase.
Interior Design, with Assistant Professor Nicolette Brehm: Campers will design a living space for their favorite celebrity, learning the design process, concept development, how to draft a floor plan to scale, create a color palette, and make finish and furniture selections for a final presentation. 
Genetics/DNA Analysis, with Professor Michael Bessert: Campers will explore the world of molecular biology by collecting specimens from the field, extracting and quantifying DNA and use techniques to copy and analyze DNA to answer questions and solve problems.
Brehm thinks that students who are "highly creative and also technically inclined would excel in the Interior Design course. Interior design is a field where these worlds overlap," she said. "Students that are interested in how people can be affected by their interior environment would also enjoy the course."
The STEAM programs are sponsored by the Eau Claire and Menomonie school districts, Xcel Energy and Parker in partnership with Continuing Education and Conferences.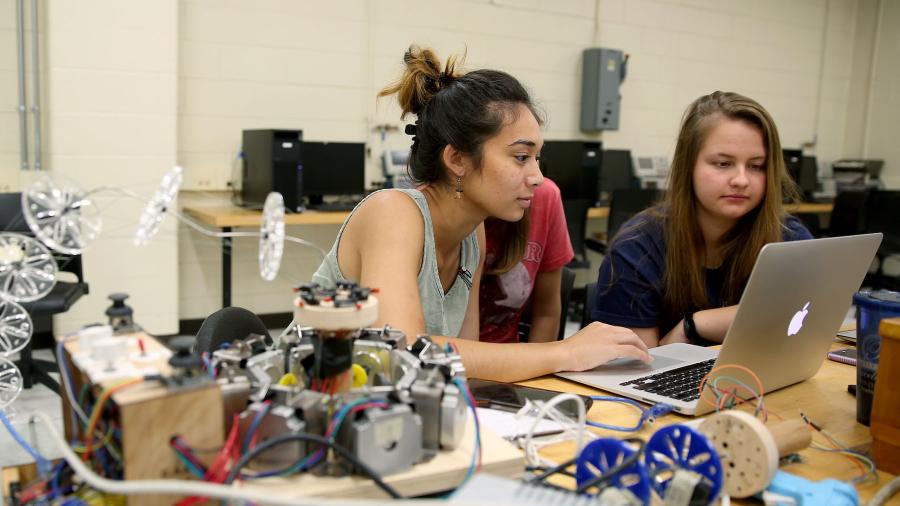 Sports and Activities
Registration will open soon for UW-Stout Athletics sports camps and Stout Adventures' Youth Climbing League.
Athletics offers multiple summer sports camps led by university coaches and staff, including baseball, basketball, soccer, softball, volleyball and more.
Youth Climbing League offers introductory climbing activities, designed to empower kids ages 6 to 13. Experienced instructors lead activities, and it is open to all skill levels and experience.
Continuing Education and Conferences is a unit of Educational Pathways and Outreach. It provides adult learners and youth access to education and resources for personal and professional enrichment through conferences and workshops, credentialing, youth camps and more.