Professors and students at University of Wisconsin-Stout have contributed for many years to efforts to reduce toxic, blue-green algae blooms and improve water quality in area lakes, rivers and streams.
One of the latest projects, the Red Cedar Basin Monitoring Program, began this summer thanks to a nearly $72,000 grant from the Freshwater Collaborative of Wisconsin, a state-funded initiative.
The program will continue in 2023 in the Red Cedar River watershed thanks to a second grant, $89,768, announced Thursday, Sept. 15, by the Freshwater Collaborative. UW-Stout also will collaborate on two other new grants.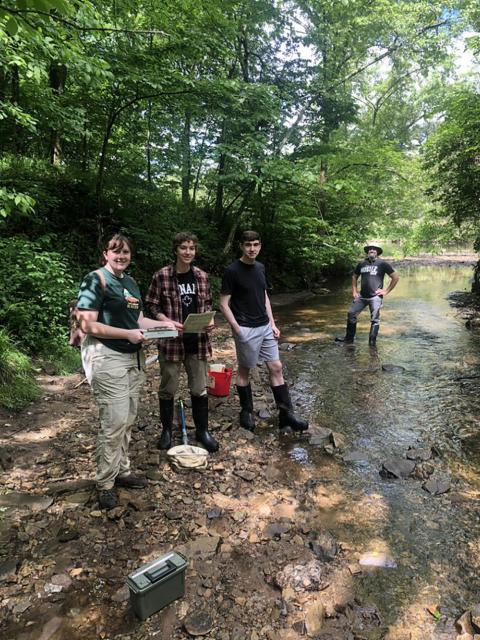 "I'm excited for this project to be renewed. It will provide valuable opportunities for our students to get involved in research activities and build their skillsets and resumes," said Associate Professor Keith Gilland, who teaches in UW-Stout's environmental science program.
Gilland is co-director of the project along with Assistant Professor Nicole Hayes, biology.
"It will also give them an opportunity to be involved with government officials and policy planners to work on real-world solutions to the water issues in our region. It helps strengthen Stout's place in the community by making us an important player in the next iteration of the watershed 10-year plan," he added.
This summer, three students tested water weekly in lakes Menomin and Tainter to monitor nutrient levels, algae blooms and general water quality. They also tested the Hay River and area streams. They are:
Kal Breeden, of Lakeville, Minn.,

environmental science

Dylan Kostuch, of Amherst,

applied science

Britney Serafina, of Baldwin, environmental science.
The data they collected will help assess the effectiveness of best management practices for reducing nutrient pollution and identify places in the watershed where more resources are needed, Gilland said.
Their work will continue through the fall, including analyzing and presenting the data and preparing for 2023.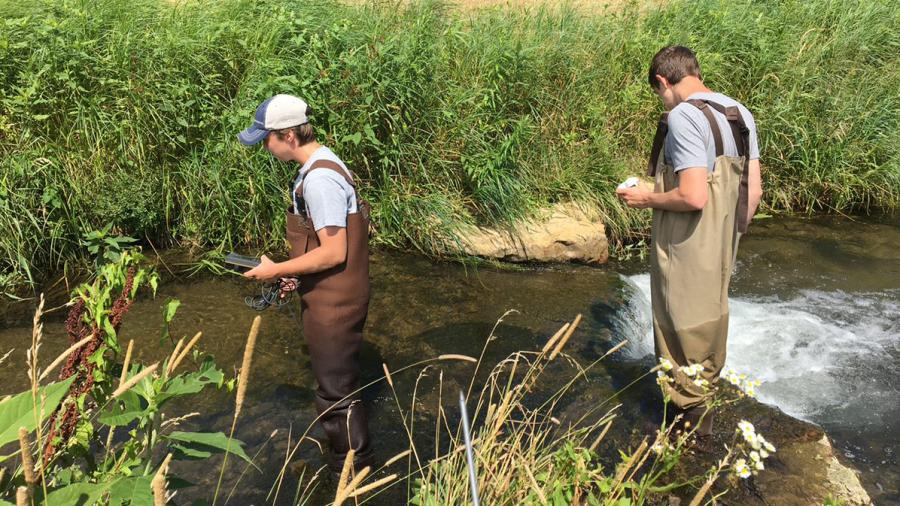 "Next year we'll focus intensively on a select set of subwatersheds that are predicted, based on land use models, to be the worst contributors to pollution. We'll examine if the model predictions are correct and how well management practices that have been implemented in those watersheds are working," Gilland said.
Data collected from testing will help determine if current practices should be continued or changed.
Water testing also will continue in 2023 along with experiments to look more closely at the cause of algae blooms.
Along with Gilland and Hayes, UW-Stout professors and instructors working with the program are Julia Chapman, biology; Tina Lee, applied social science; and Innisfree McKinnon, applied social science.
Partners on the project are UW-Eau Claire, UW-Oshkosh, UW-River Falls and Barron and Dunn counties. The other universities each received $6,300, making the grant total $108,668.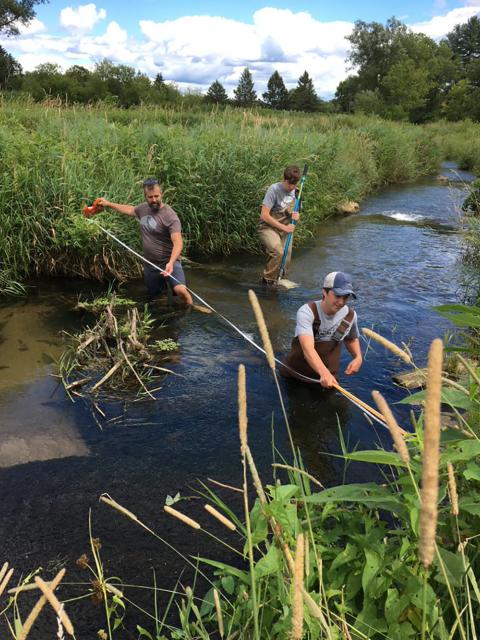 The first grant for the Red Cedar Basin Monitoring Program was awarded in March, one of eight grants totaling $306,108 that UW-Stout received from the Freshwater Collaborative.
The Red Cedar River watershed is nearly 1,900 square miles and includes parts of Barron, Burnett, Chippewa, Dunn, Pierce, Polk, Rusk, Sawyer, St. Croix and Washburn counties. It features approximately 40,000 acres of open water and approximately 4,900 miles of rivers and streams.
The other new grants are:
Freshwater Science across the Curriculum: Linked Outreach and Advanced Educational Activities, $5,050. Hayes will collaborate with UW-Eau Claire's Brian Mahoney to develop the Freshwater Science Field Experience in western Wisconsin, an outreach and recruitment program targeting junior and senior high school students.
The field-intensive, hands-on learning experience introduces participants to a wide range of freshwater science topics with specialists from UW-Eau Claire, UW-Stout and UW-River Falls. The course will be offered for two credits.
The second objective of the project further develops an immersive eight-day western Wisconsin Advanced Freshwater Field Course for undergraduates with hands-on experiences designed to increase the employability of UW System students across the state. The course is a collaboration between UW-Eau Claire, UW-Stout, UW-River Falls and UW-Oshkosh.
Leveraging the strength of the Wisconsin Agriculture-Water Nexus Network (WAW2N) for transformative student experiences, $7,028. McKinnon will collaborate with UW-Green Bay's Kpoti Gunn.
The cross-campus network will create transformational education experiences that provide students with a greater understanding of the connection between agriculture and water and the need for multidisciplinary solutions that support both food production and maintaining high-quality freshwater resources across Wisconsin.
The project will also support the online delivery of a newly designed cross-campus course at the nexus of agriculture and water, which will highlight learnings at the ag-water nexus attained under previous Freshwater Collaborative–funded projects. A multiday field trip course built around variations in southwest Wisconsin agriculture will complement the online course.
Freshwater research on campus
In addition to the monitoring program, UW-Stout hosts a federally funded LAKES REU — research experience for undergraduates — program that includes 10 to 12 students each summer from around the U.S. doing various types of research on water quality issues. This year's students presented their work to the public Aug. 11 in Menomonie.
The university's Center for Limnological Research and Rehabilitation is a state and national resource for water quality testing, scientifically analyzing lake sediment in UW-Stout labs and developing treatment plans.
In 2021, UW-Stout implemented its FOCUS2030 strategic plan, which includes five key goals, led by student success. All of UW-Stout's undergraduate and Graduate School programs have an experiential learning component. 
###