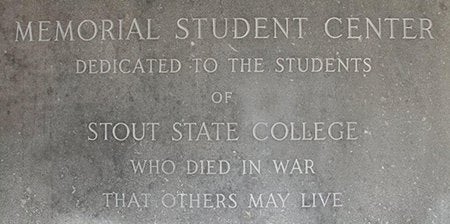 Throughout the institution's history, many Stout students and staff have died in military service to the United States. This site provides a list of those known people, along with brief biographies. Included are people who died as a result of combat, disease or accident while serving in the military during times of war or crisis.
It is hoped that the list is complete. If anyone knows of other such heroes, or if you can provide added details to any of these biographies (such as service branch, rank, circumstances of the death, and awards/decorations received) please contact the University Archives at archives@uwstout.edu or complete and submit our information form. 
The Hall of Heroes Project Committee has developed an installation at the Memorial Student Center, which is named for these fallen heroes.