Maintaining Leadership, the 1980s to Present
As the university moved toward its second century, Stout was strengthening its traditional connection to the needs of the marketplace. A proposed engineering program promised to raise the university's historic ties with industry to a new level. The newly-developed Stout Technology Park furthered the relationship, connecting the university's programs with the immediacy of the workplace.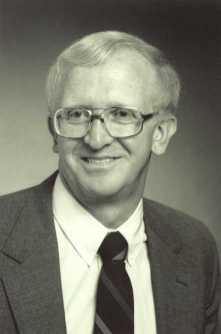 The appointment of Charles W. Sorensen as the sixth head of the institution seemed almost a total break with the past. For the first time in more than 40 years, the institution would be headed by someone who had not graduated from Stout. Fryklund, Micheels and Swanson all had degrees from Stout and each had a strong background in industrial education. Harvey and Nelson before them, though not Stout graduates, had been leaders in industrial and vocational education. Sorensen was a historian. At first some people questioned if he would appreciate the university's distinctive role in Wisconsin's system of higher education. He soon made it clear that he came to the university with an understanding of Stout's heritage, and a desire to continue to update the institution's programs while maintaining its unique mission.
Sorensen was born in Audubon, a small town in western Iowa. The family moved to Davenport, Iowa when he was one year old, and then to Moline, Illinois three years later.
Generally, young men and women growing up in the Moline area in the 1940s and '50s did not go on to college. Most took jobs at John Deere or at one of the other manufacturing plants in the area. Sorensen confessed that he was not an ideal student. But after working for a summer, he decided there had to be "a better avenue to a better life."
He attended Black Hawk Community College, and earned a bachelor of arts degree in history and political science from Augustana College in 1964. After a brief teaching assignment in Colorado, he began graduate work at Illinois State University, earning a master's degree in 1967. He earned a Ph.D. in American history from Michigan State in 1973.
The foundation for Sorensen's administrative career was shaped at Grand Valley State College in Michigan. He began teaching there in 1970, and after several promotions, was named dean of the College of Arts and Sciences in 1979.
In 1984, he was named vice president for Academic Affairs at Winona State in Minnesota. Four years later, on June 10, 1988, the UW System Board of Regents appointed him chancellor of University of Wisconsin-Stout. He began serving in August.
In his inaugural address, Sorensen said he saw "no pressing need for a dramatic change in the mission of UW-Stout." However, he outlined the challenges he said he believed the university must meet to maintain its leadership role. Among the most important was a strengthened relationship between the university and business and industry.
With the construction of the Stout Technology Park, the university moved into a dynamic new era in economic development. Sorensen noted that the park was a continuation of Stout's record of public service to the private sector: "Since its founding, Stout has had a valued tradition of meeting industry needs. The technology park truly symbolizes that tradition; here the past comes face to face with the present and with a host of new opportunities for the future. It is our challenge to develop those opportunities so that they return the highest possible rewards."
Sorensen recognized that Stout had to make a special effort to bring minorities to its campus. A medium-sized Midwestern university, located in a fairly rural setting, doesn't guarantee students the opportunity to meet people with other cultural or ethnic backgrounds. Yet Stout graduates frequently work in setting that require an understanding of the differences among people. Increasingly, the university is involved with international relationships, including economic and educational connections with China, Turkey, Malaysia, Bolivia, Saudi Arabia, and many other countries.
In his inaugural address, Sorensen pledged his commitment to recruiting more minority students and staff, saying that it was not only a moral and ethical obligation, but an absolute necessity: "A diversified campus is a healthy campus in every respect - body, mind and spirit. Healthy because the real world - the world of work and the world we send our graduates to - is a world of many colors and many races. We must prepare our students for diversity."
Sorensen also called for new emphasis on skills that prepare students to manage change. With the rate of change in our world, he said students must have computational and communication skills. Graduates must be capable of critical analysis and creative problem solving.
Sorensen began his tenure faced with a host of challenges from within and outside the university. But the university has always faced challenges. It grew and matured through two world wars, the Great Depression, and the unprecedented increases in enrollment and programming during the 1960s. The university will meet its current changes, as it has in the past.
From the start, the goals of Sorensen expressed for the university complemented not only the mission of the institution, but the goals of the leaders before him: "Each succeeding chancellor has had his dream for Stout and I have mine. It is for a university where ideas thrive, where intellectual curiosity leads people to new experiences, where the love of ideas meets the need for practical application, where learning is real and where quality education is simply not a cliché."
--Kevin Thorie